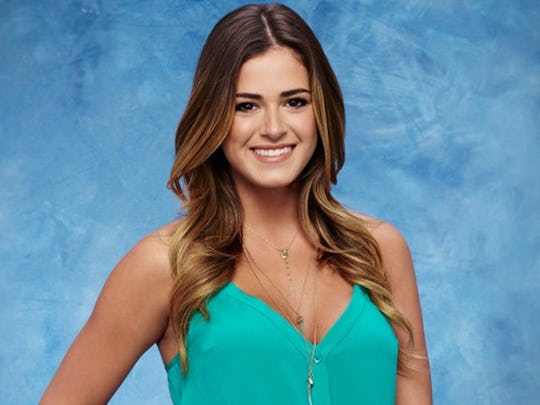 Craig Sjodin/ABC
Does Jojo Leave 'The Bachelor?' She's A Serious Contender Who Could Make It To The Final Two
It's about time for The Bachelor to start getting a little contentious as the pool of women starts to thin out. Of all the women, it doesn't look like JoJo Fletcher is leaving The Bachelor anytime soon. Early favorites like Olivia are starting to show their crazy and even Ben didn't look all that broken up when Jubliee decided to leave last week. JoJo and Ben seem to have real chemistry when they're hanging out together. And she got the biggest and baddest one-on-one date too.
In Las Vegas just a few weeks ago, the duo made out in a helicopter and cuddled up watching fireworks over the Strip together. It might have been a little cheesy, but it was perfect in that Bachelor sort of way. Let's talk about those smooches, too. JoJo and Ben are always making out. In episode two, she got the rose for the group date and she and Ben made out on a roof. When Ben and JoJo locked lips in Vegas, all the girls watched from the hotel room and seemed visibly shaken up and nervous about the two lovebirds' knack for PDA. Higgins may be a bad kisser, but he doesn't seem at all awkward with JoJo. All things considered, she could definitely be The One.
JoJo could go all the way — and at the very least, she'll probably make it to the hometown dates. But there are other strong contenders, too. Caila and Amanda Stanton also look like they have a good shot at getting that final rose, according to Bachelor spoilers king Carter Matt. The chemistry between Lauren Bushnell and Ben is also palpable. He's been pulling Lauren away every chance he can get to make out with her. That seems to be Higgins' modus operandi — if you lock lips, you're in. (Unless you're Olivia but that's a whole other story.)
Lauren B's chemistry with Ben could be the only thing in JoJo's way. There are rumors circling out there in reality TV land that it comes down to JoJo and Lauren, and ultimately he proposes to the 25-year old flight attendant. Apparently she posted a picture in September with some friends and it looked like she was rocking an engagement ring. Host Chris Harrison helped shoot down that rumor saying that the ring was obviously not big enough or "Neil Lane approved" for a Bachelor winner. (They take the bling seriously here.)
It can still go either way. But it's starting to look more and more likely that JoJo isn't leaving the Bachelor before those final episodes. Even if she and Ben don't live happily after, she seems to be giving it her best effort. Get at it, JoJo.