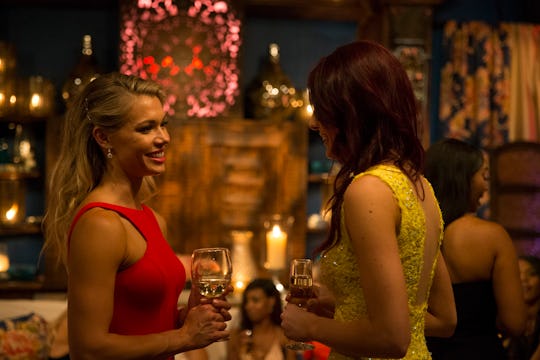 Paul Hebert/ABC
Krystal From 'The Bachelor' Has A Strong Social Media Presence
Week 3 of The Bachelor Season 22 is almost upon us, and by now you've probably already decided on your favorite (and not-so-favorite) contestants. But whether you love the drama surrounding Krystal Nielson and Bibiana Julian or aren't sure who you side with, you're probably curious about the two feuding contestants. And since sometimes Snapchat tends to be the most revealing social media platform of all, some fans are undoubtedly wondering: does Krystal from The Bachelor have Snapchat?
As an online health and fitness coach, she certainly has a strong online presence, but it looks like Instagram and Facebook are as far as she goes when it to comes to social media. Honestly, I'm sure there are a lot of people who never really got into all of the different social media options, so I definitely don't blame her. But since she makes a living showcasing her health and fitness brand online, you'd think she would also have a Snapchat account.
A search of her name and also her Instagram handle came up with nothing and seeing as how there are no Instagram photos with one of the more familiar Snapchat filters on them, it's safe to say that Krystal isn't about that Snapchat life.
Since she already has more than 45,000 Instagram followers, she probably doesn't even need a Snapchat to get more support and interest from fans. But then again, if she's made this much traction on Instagram, there's no reason to assume that she wouldn't also reach tons of fans on Snapchat as well.
Other popular fitness businesses and gurus have found success in using Snapchat to motivate followers and keep up interest with their brand, like the popular Beach Body brand, but Krystal appears to have had a ton of success with Instagram alone.
So far this season on The Bachelor, Krystal may have rubbed some of the women the wrong way, whether it was Bibiana and their blowout or Bekah Martinez, who also told her that her inability to open up to the other women isn't good for her. But that's probably just because Krystal went on the show with one goal in mind, and that was to see if she could fall in love with the Bachelor himself.
She may be getting the typical Bachelor villain treatment at the moment, but as her Instagram will show you, she's all about positivity and good vibes. Of course it would be nice to see some of that side of her personality in some snaps, but for right now, she seems content with what she already has going for her on social media and you can't really fault her for that.
Through her motivational captions, workout progress photos, and workout videos, Krystal has maintained a steady presence for her career as an online health and fitness coach. When she's not inspiring others via social media though, Krystal trains them at the Orangetheory Fitness gym in San Diego and works with clients of all ages to help them get healthier. So while she may not be on Snapchat, Krystal still has a thriving career regardless.
Though she trains her clients in person, her presence on social media is also a huge part of her career and with her obvious success via Instagram, it doesn't look like the fitness coach will even need to branch off into any other platforms for the time being. Unfortunately, that means no hilarious voice changers or silly holiday-themed filters, but I think her fans are happy with how active she is online otherwise.
Check out Romper's new video series, Romper's Doula Diaries:
Watch full episodes of Romper's Doula Diaries on Facebook Watch.