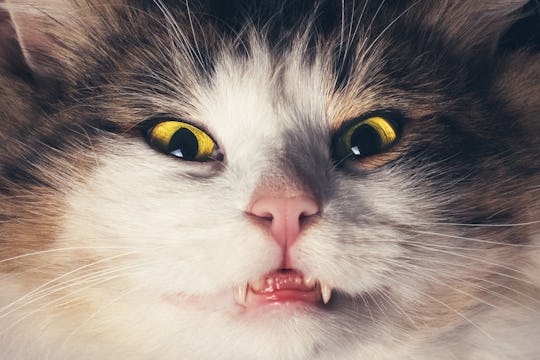 SerPhoto/Fotolia
5 Ways Mercury Retrograde Is Totally Messing With Your Cat
When you're smack in the middle of Mercury retrograde, it seems like every single aspect of your life is affected by the cosmic mayhem. You're constantly putting out fires at work, everything you own seems to be malfunctioning, and communication breakdowns are plaguing your personal relationships... including those with non-human family members. Hey, they're living on the planet Earth, too. But are some animals more sensitive to the movement of heavenly bodies than others? Does Mercury retrograde affect cats?
"The slapstick treachery of Mercury Retrograde is well known," Australian astrologer and author Mystic Medusa explained on her popular blog, citing examples from U.F.O. sightings to appliance breakdowns to messages getting sent to the wrong person. But Mercury retrograde has yet another "side-effect," she continued: "weirdness around our companion animals."
It makes sense, of course, as pets are living creatures, too, whose character traits are as likely to be influenced by the stars as our own.
"[Astrology] is one piece of the puzzle," astrologer Maressa Brown told Mashable. "There's environmental factors and innate things. But astrology is one more tool to understand any one thing with a personality."
And taking it one step further, Mercury retrograde is an especially relevant time for our furry friends, according to animal communicator Marla Steele.
"Mercury directly rules pets so it is a good time to keep a close eye on them and their physical bodies," Steele wrote on her website.
There's no reason why cats should necessarily be any more affected by a retrograde than dogs or rabbits or horses or whatever type of animal you might know personally, but felines definitely have their own style. So if you've got a cat at home, brace yourself — the current retrograde isn't over until August 18.