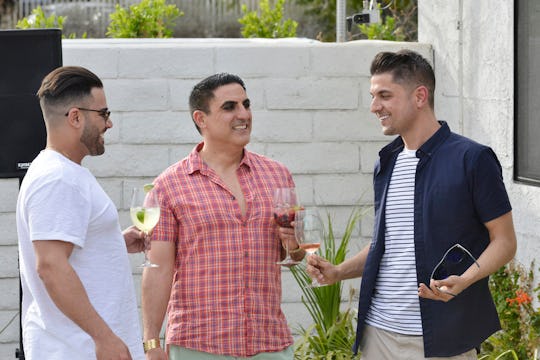 Jerod Harris/Bravo
Nema Vand Made Some New Friends On 'Shahs Of Sunset' This Season
Shahs of Sunset Season 7 introduced some new cast members to the series including Nema Vand and his sister Mona. The siblings made waves in the group and Nema even came close to hooking up with Golnesa "GG" Gharachedaghi — despite already having a live-in girlfriend at the time. Like I said, *waves*. Now that the season is coming to an end, fans are probably wondering, does Nema Vand still hang out with the group after Shahs of Sunset? He probably isn't going anywhere anytime soon and not just because of his massive crush on GG.
For the most part, Nema has connected with a lot of the core cast this season. Outside of the show, he seems to still be just as close to them. He recently posted an Instagram photo of himself with the rest of the Shahs of Sunset cast while they were celebrating the launch of Reza Farahan's new line of hair care products. Nema captioned the photo with, "When one of us wins, we ALL win. That's how you rep for the culture. So proud of our guy [Reza Farahan] for launching his amazing new line [Reza Be Obsessed], which btw might be the best smelling products I've ever used. What a great event and great night with the [Shahs] family."
I'd say that Nema is officially accepted as part of the gang.
On an episode of Watch What Happens Live, a caller asked about Nema's hot and cold friendship with co-star Mike Shouhed and the two hugged it out before Nema likened their friendship to family. "Mike is big brother, little brother," he said, referring to himself as the little brother, of course. "I think when you come into this, I think you're always gonna be a little protective as a group of friends because it's a very special group. And when I met [Mike] initially, it was — we're bros instantly. Brothers are gonna push back, we're gonna fight. It's really brotherly love."
Mike added that when he met Nema, Nema thanked him for representing their Persian culture appropriately. "And I was like, 'Alright, let me introduce you to the group,'" Mike explained. "And we joke, we banter back and forth on social media, but I think the world's perception is a lot more crazy." They're basically in the hottest bromance of the show and I know I'm not the only fan who is totally here for it.
There are also a lot of photos of Nema with the cast doing normal friend things like going to fairs and haunted houses. They're seriously giving me friendship envy at this point, so Nema is definitely still close to the Shahs of Sunset group. The show hasn't officially been renewed for Season 8 yet, but I wouldn't be surprised if Nema comes back to continue flirting and bonding with the cast.
Nema's time on Shahs of Sunset began with his very real interest in GG and almost kissing her. And this was all before he broke things off with his girlfriend at the time. He and GG still haven't hooked up or professed their love for one another, but Nema has proven himself able to slip right in with the rest of the cast and get close to almost everyone both on and off the show. And the fact that he was signed on as a member of the main cast rather than as a "friend" his first season really says something about his staying power. But it definitely helps that he's gotten close to the cast away from the cameras and now they seem like one big happy reality TV family.