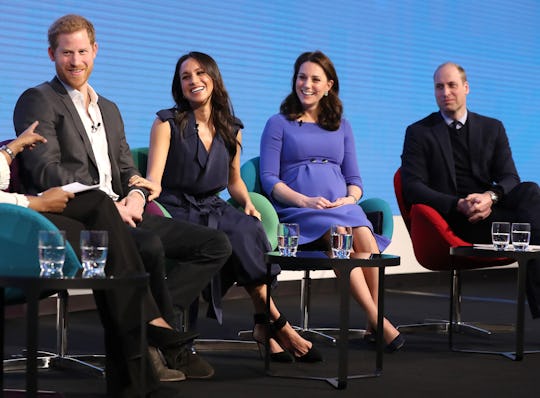 Chris Jackson/Getty Images Entertainment/Getty Images
Here's How The Royal Family Probably Feels About Birth Control
Between the Duke and Duchess of Sussex's royal wedding and the birth of Prince Louis, royal family expansion is certainly a popular topic at the moment. Most royals are expected to have children to keep the royal bloodline strong, and The Duke and Duchess of Cambridge, aka Prince William and Kate Middleton, have certainly kept up that end of the bargain. That being said, does the royal family believe in birth control?
In true British/royal family fashion, the Mountbatten-Windsor family has been pretty mum regarding birth control, as they are with most politicized topics. However, there are several pieces of information that would imply that the royal family is actually totally cool with birth control.
For instance, no currently-living members of the royal family have more than four children. Queen Elizabeth II and Prince Philip have four children; Prince Charles, Duke of Wales and Diana, Princess of Wales had two children; and Prince William and Middleton have three children. This either means those couples used some form of birth control (whether that's the pill, condoms, or anything else), they're not having sex other than when they want to get pregnant (unlikely), or they have had fertility issues.
In fact, shortly before Kate gave birth to Prince George in 2013, members of the Finnish government gifted her a traditional Finnish baby box, reported The Mirror. The box contained a variety of items a new parent would need, including baby outfits, nursing pads, a teething toy, diaper cream — and condoms. In response to the gift, a Kensington Palace spokesman issued the following statement at the time, reported The Mirror:
We were delighted to receive the very kind gift of the maternity package from the Finnish government ... It was a very thoughtful gesture and we're very grateful for it. I'm sure the Duke and Duchess will be very interested to see the contents.
So while the couple did not directly comment on the condoms, they did not make a public stink about them, implying that they are at least not heavily opposed to birth control.
As a self-identified feminist, it would be absolutely shocking if the Duchess of Sussex, Meghan Markle, did not believe in birth control. Markle has done a lot of charitable work, having used her platform to fight for gender equality on multiple occasions, according to her bio on the official royal website. When she ran her lifestyle blog The Tig, she often discussed gender equality, and she gave a speech on International Women's Day for UN Women, where she discussed the vitality of gender equality, according to her bio on the royal website.
Contrary to popular belief, the royal family is not Catholic. They belong to the Church of England, and the Queen is the "Defender of the Faith and Supreme Governor of the Church of England," according to the royal website. And the Church of England has some pretty surprising views regarding birth control.
In an archived page from 2005 on The Church of England's website, it was stated that "The Church of England does not regard contraception as a sin or a contravention of God's purpose." The website added that a 1930 conference concluded that:
Where there is a clearly felt moral obligation to limit or avoid parenthood, complete abstinence is the primary and obvious method.
However, if there was a "morally sound reasoning for avoiding abstinence," then:
the Conference agrees that other methods may be used, provided that this is done in the light of Christian principles.
Not to mention, the Queen has been refreshingly lax about several things that churches are often associated with disapproving. For example, in 2013, the Queen approved the Succession to the Crown Act, which stated that royal boys would no longer be able to surpass their older sisters in the line of succession. Additionally, she blessed Prince Harry and Markle's marriage, even though Markle had been divorced. Not to mention, Markle's official royal bio includes the former actress' quote "I am proud to be a woman and a feminist," and it's unlikely that the royal website would have been allowed to publish that without the Queen's approval.
While the royal family is heavily rooted in tradition, it's clear that their beliefs are constantly evolving for the better.