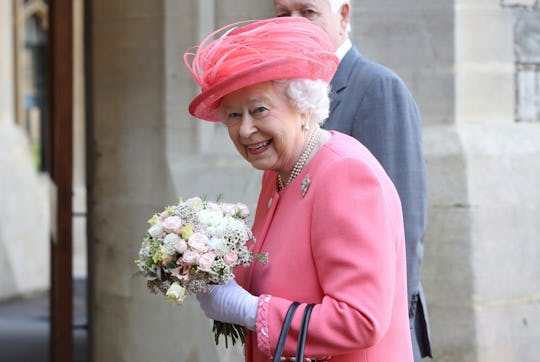 Chris Jackson/Getty Images Entertainment/Getty Images
Here Are The Queen's Responsibilities For The Royal Wedding
Somehow, the royal wedding between Meghan Markle and Prince Harry is just a few weeks away. People all over the globe are super psyched to see the day unfold, but you can bet that Queen Elizabeth II is even more excited. After all, what grandmother doesn't want to see her grandchildren get married — especially to someone as awesome as Markle? That being said, the Queen's role in the royal wedding is definitely an important one.
Katie Nicholl, who wrote the book Harry: Life, Loss, and Love recently spoke with ET Online to discuss how the Queen feels about Prince Harry and Markle's impeding wedding — and if her sources are correct, the Queen is stepping back to let the couple have the spotlight. "I'm told from my sources at Windsor Castle that [Queen Elizabeth] is being very, very accommodating," Nicholl told the outlet. "She has said to the couple, 'This is your wedding, this is your day. Plan it as you want it.'" While that seems like a typical move from a loving, respectful grandmother, Nicholl pointed out that it's a bigger deal than it seems. "[This] is very generous because, don't forget, the queen is opening up her home," she explained to ET Online.
That's right — the Queen's main role at the upcoming royal wedding is that of hostess. Following the ceremony and procession, Queen Elizabeth II will host a huge reception at St. George's Hall (which is within the castle grounds) for all the couple's guests, as reported by CNN. The chapel fits about 800 people, so that's quite the guest list for the reception. Luckily, the Queen probably has a ton of staff to do most of the work for her. (She did just turn 92, after all!)
And on top of hosting the hottest royal event of the year (next to the birth of Middleton and Prince William's third baby, of course), the Queen also seems to have a pretty sweet gift in store for the royal couple. While nothing has been confirmed, multiple reports suggest that she will give Prince Harry and Markle a cottage, specifically York Cottage in Norfolk, according to 9news and the Mirror. The couple asked for charity donations instead of gifts for their wedding, but like, how do you say no to a cottage from the Queen? I don't think you can.
Nicholl also explained a little more about the Queen and Prince Harry's relationship, telling ET Online:
Don't forget she's hugely close to her grandson. They have a very special relationship. She is thrilled to be seeing Harry settle down and finally marry ... She's going to want to be a very important part of that day and indeed she will.
Before the Queen gave the young couple her blessing, some were skeptical that Markle would receive her seal of approval. Nicholl explained to ET Online that because Markle is divorced, American, a famous actress, and from a "dual heritage family," there was a chance that the Queen would be "concerned." However, the Queen issued a formal letter expressing her consent for her "Most Dearly Beloved Grandson Prince Henry" and Markle to wed on March 15.
And while the letter seems very sweet, some haters took it upon themselves to compare it to the letter the Queen wrote for Prince William and Kate Middleton upon their engagement, in which the Queen reportedly referred to her as "our trusty and well-beloved Catherine Elizabeth Middleton," as noted by Harpers Bazaar. To be fair, Prince William and Middleton's relationship was much longer than Prince Harry and Markle's when they got engaged, and the Queen had likely spent a lot more time with Middleton than she has with Markle. Prince William and Middleton met back in college and started dating around 2003, while the younger couple has been together for less than two years.
All in all, there's no doubt that the Queen is going to be thrilled on her grandson's wedding day — and that there will be plenty of adorable photos.