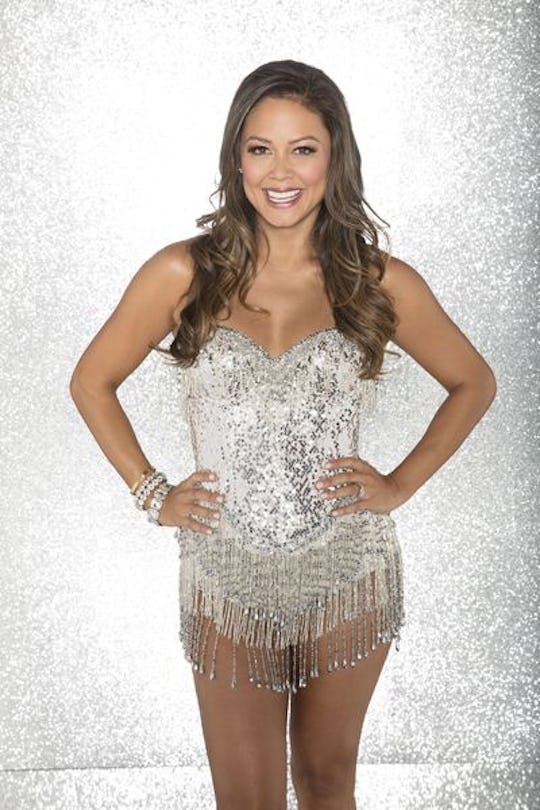 Craig Sjodin/ABC
Vanessa Lachey May Surprise Fans With Her Dance Moves On 'DWTS'
I can't be the only one who assumed that since Vanessa Lachey is married to a member of boy band 98 Degrees that she somehow has dance skills too, right? But just because she's experienced in show business, doesn't necessarily mean that she automatically knows how to cha-cha and tango like a pro. Since she was Miss Teen USA back in 1998 though, does Vanessa Lachey have dance experience prior to Dancing With the Stars? The contestant might be married to an experienced performer, but her career has been more about hosting rather than performing as a trained dancer.
Even so, she does apparently have a song she requested to dance to during DWTS this season. "I was like, babe, can I get 'Una Noche'?" Lachey told HollywoodLife about talking to husband and fellow DWTS contestant this season, Nick Lachey. "He's like, 'That's my song.' And I went, 'But you don't want to dance to your song! You want your wife to cha cha to your song.' He's like, 'No, I want my song!'"
In 1998, Vanessa was crowned Miss Teen USA, but it doesn't look like anywhere in the competition called for dancing. However, even if it did, nothing can really prepare you for the intricate dances and subsequent routines created by the pros of DWTS.
Although it doesn't look like Vanessa has any dance experience prior to DWTS, according to the Miss Teen USA pageant in 1998, she was fairly active in sports as a teenager and maybe some of that can carry over to her training with Maks Chmerkovskiy as she competes. And her lack of professional dance experience doesn't necessarily mean that she can't move to the music when the situation calls for it. As a TRL host from 2003-2007 and self-proclaimed N'SYNC fan (yes, that's right, the wife of a 98 Degrees frontman has always preferred a different boy band from the one her husband was in), Vanessa probably won't have much trouble getting the hang of things this season.
Thanks to her years of hosting, Vanessa is no stranger to being on live TV and commanding an audience, so that part won't be so different for the star. She also doesn't seem like someone who gives up easily, as seen on a July episode of Battle of the Network Stars when she bruised literally her entire body in the intricate obstacle course and other physical challenges.
Since at the end of the day, Nick and Vanessa go home to each other and potentially share notes about their DWTS experiences, you might assume he could help her with some of her moves if need be. But there's also a big difference between learning choreographed dances, like Nick did for years with 98 Degrees, and learning choreographed dances that also include aspects of the foxtrot or Viennese waltz.
Vanessa did reveal to Us Weekly that while she and partner Chmerkovskiy aren't going to be sharing their entire routines with Nick and his partner, Chmerkovskiy's wife Peta Murgatroyd, they are going to be unwinding together at the end of rehearsal days. "We don't practice dancing with each other but it is nice because of the massages," Vanessa told the outlet, adding:
I'm like, I'll rub your feet you rub my feet. That is fun. It really is another layer to our relationship. I can't wait for the first live show, and I can't to watch him. We did a little show the other day, we were at the same studio, and Maks and I came in and they showed us a little bit of their routine and we showed them a little bit of what we learned.
But don't get it twisted, because at the end of the day this is still a competition and dance experience or not, Vanessa seems in it to win it. "It would be fun if we all made it to the finals," she admitted. And if anyone can ensure that Vanessa makes it far on DWTS this season, its Chmerkovskiy, who placed first in Season 18 with partner Meryl Davis, and before that, second place in Season 12 with Kirstie Alley. So yeah, Vanessa's in some pretty capable hands.
Watch Romper's new video series, Romper's Doula Diaries:
Check out the entire Romper's Doula Diaries series and other videos on Facebook and the Bustle app across Apple TV, Roku, and Amazon Fire TV.