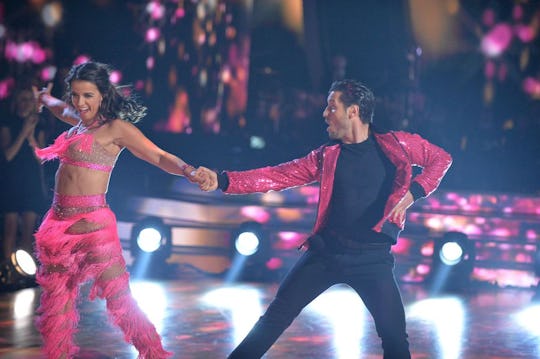 Eric McCandless/ABC
Victoria Arlen Is Living Out Her Dream On 'Dancing With The Stars'
If anyone is proof that you can overcome any obstacle, it's Victoria Arlen, who just under two years ago was paralyzed and thought she would never walk again. But as seen in the season premiere of Dancing With the Stars, she's already getting the hang of using her legs for complicated choreography with pro partner Val Chmerkovskiy. So, does Victoria Arlen have dance experience before Dancing With the Stars? Being on the show and dancing has always been a dream for the former paralympian athlete, but since she lost use of her legs at an early age, Arlen doesn't have any professional dance training prior to DWTS.
At the age of 11, Arlen was diagnosed with two autoimmune conditions, transverse myelitis and acute disseminated encephalomyelitis, which left her body increasingly paralyzed and in a vegetative state for four years before she slowly began regaining the use of her body above her waist. But, Arlen wrote on her People.com blog, DWTS had been a part of her life and dreams as a child before her diagnosis.
"When I was 10 years old, Dancing With the Stars premiered, and I told my mom, 'I'm going to be on that show one day,'" she wrote. "When I was sick, my parents would remember that dream and put DWTS on the TV so I could watch it. It was always a motivating factor to start my recovery but I never imagined I would actually do it."
Before she lost feeling in her legs, Arlen did have some experience learning ballet, tap, and even jazz dancing, but it wasn't until a year and a half ago that she started walking again, so she's been out of commision for some time when it comes to dancing. Even so, Arlen's first performance on the DWTS premiere, in which she and Chmerkovskiy earned a combined score of 19, definitely makes it seem like the contestant has more than just childhood experience with dancing. That's all part of her inability to give up, though, as evidenced by the fact that she pushed herself to walk again even when it didn't seem possible.
"It's been a really intense and challenging experience so far," Arlen admitted on her People.com blog. "It's been a reality check that my muscles are still really affected by my spinal cord injury, but it's also been super empowering to see how much I'm capable of."
Before working to regain control of her legs, Arlen was a paralympic swimmer and even went to the 2012 London Games, where she earned one gold and three silver medals. But even after months and months of therapy, as she told Chmerkovskiy on the season premiere of DWTS, Arlen still can't feel her legs because of what she deems to be permanent nerve damage. "I think this is a really big statement to myself as well as to the people that kind of wrote me off that I'm here, I lived, and I'm ready to dance."
And after their cha cha, Arlen proved that she's in it to win it against the other contestants on DWTS Season 25. After the performance, Carrie Ann Inaba told Arlen, "That was one of the most joyous performances I think I've ever seen" and judge Bruno Bertoli gave her a score of six, telling her, "So lovely, my darling, and you will keep getting better."
So while her dance experience doesn't go beyond childhood lessons, Arlen's drive to continue to beat the odds is clearly what's going to push her along this season.
Watch Romper's new video series, Romper's Doula Diaries:
Check out the entire Romper's Doula Diaries series and other videos on Facebook and the Bustle app across Apple TV, Roku, and Amazon Fire TV.