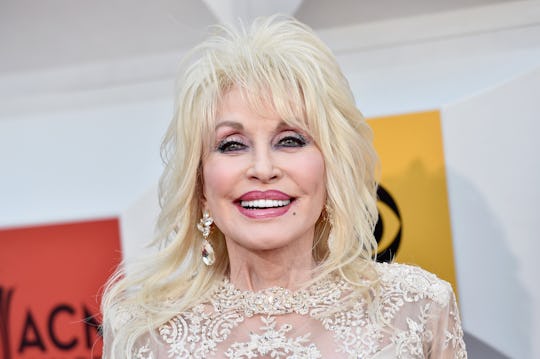 David Becker/Getty Images Entertainment/Getty Images
Dolly Parton Thinks She's The Perfect Babysitter, & Honestly, I'm Not Arguing
If you don't love Dolly Parton, I just don't know how to help you. Beyond her singing talent, her acting chops (I mean, did you even see Steel Magnolias?), and her whip smart sense of humor, she's simply a good egg. With that indefinable extra something that is just so Dolly. When Dolly Parton said she's the perfect babysitter during an interview with The Huffington Post recently, I'm sure everyone reading it was thinking the same thing. Does she babysit grown ups too? Because sign me up.
Dolly Parton grew up in the Smokey Mountains of Tennessee. She was raised in a family of 12 children, with little in the way of monetary wealth. And in a recently released children's album called I Believe In You, the prolific songwriter is sharing her story to inspire children to believe in their own power, regardless of their humble beginnings (if that happens to be the case). After 50 years of massive success, with songs like "Jolene," "I Will Always Love You," and "9 to 5," why did Parton decide to come out with a children's album? Because, as the 71-year-old singer told People, people see her as rather a larger than life, yet sympathetic character.
That fact that I love kids and people relate to me looking like a Mother Goose or Cinderella — you know, one of those over-exaggerated cartoon characters — it gets children's attention, and it keeps me young.
Not that Parton needs a whole lot of help getting the attention of kids, of course. While she has never had children herself, she believes that is exactly the reason she has such a strong rapport with kids, as she told The Huffington Post:
I'm the perfect grandma, I'm the perfect aunt, I'm the perfect babysitter, because I don't have children. So I bring them over to visit me by choice. They don't get dumped on me. And when I do keep them, if they get out of line, all I have to do is imply that I'll take them home or call their mom to come get them. Or sometimes if they're really rowdy I'll just say, "Now do you want me to call mom? You're not happy now? You're not happy here? Cause I can call mom." I sweetly threaten them.
The country singer also makes sure to have loads of cool places for her myriad of nieces and nephews to stay when they come visit, and now I'm a little depressed that I'm not one of them. As she told Huffington Post in that same interview:
I have places for children ― for my nieces and nephews and friends ― all over my properties. Anywhere that I have land and houses. I've got stuff for kids. And I usually go up to one of the playhouses or tree houses or up to the playgrounds. And so I just have fun getting into playhouses and putting myself in their little minds. Just putting myself in their little world.
All of the proceeds from I Believe In You will go to Parton's truly amazing non-profit organization, Imagine Library, which has donated 100 million books to children around the world and plans to donate millions more. Parton started Imagination Library in 1995 for a very special reason, as she told ABC News:
My own dad could not read or write, and he seemed so crippled by that, but Daddy was so smart. I felt I wanted to do something to honor my dad. I let him be involved in the Imagination Library in its early days. He loved hearing the kids call me 'The Book Lady.'
If you didn't love Dolly Parton before, obviously you love her now.
Check out Romper's new video series, Romper's Doula Diaries:
Check out the entire Romper's Doula Diaries series and other videos on Facebook and the Bustle app across Apple TV, Roku, and Amazon Fire TV.