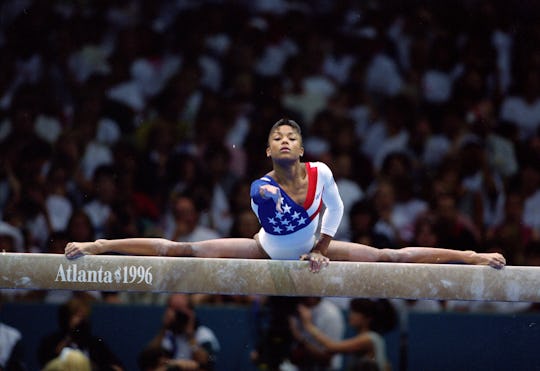 Doug Pensinger/Getty Images Sport/Getty Images
Dominique Dawes Doesn't Want To Be Defined By Her Gymnastics Medals & Here's Why
As a '90s child, I witnessed some iconic sports moments, from the Tonya Harding skating scandal, to the magic of Michael Jordan, to the U.S women's World Cup victory over Japan. To me, however, the most memorable moment of the decade — in or out of the arena — was when the 1996 U.S. women's Olympic gymnastics team took home gold. Being a gymnast the time, this victory moved me to tears and made me think the girls on the podium had it all. But, as it turns out, there's more to life than Olympic victory, which is why Dominique Dawes doesn't want to be defined by her gymnastics medals.
Considering the amount of medals she has, that's not an easily obtainable goal. Throughout her 18-year gymnastics career, Dawes won 28 major medals — four of which she earned during her three trips to the Olympics, according to Biography.com. And it's not just the hardware that has earned Dawes a place in the history books. According to USA Gymnastics, Dawes became the first African-American female to win an Olympic gymnastics medal, along with teammate Betty Okino, in 1992. Dawes was also the first African-American to win an individual event medal in the 1996 games. These accomplishments, combined with her athleticism and grace, made Dawes a force to be reckoned with and a fan favorite. (Seriously — my sister, cousins, and I would fight over who would be Dawes when we "played" Olympics.) But despite the accolades, Dawes always knew she was destined for more than gymnastics gold.
"I knew at a young age that winning an Olympic gold medal was the pinnacle of my athletic career," Dawes tells me during a breakfast to announce her partnership with GoGo squeeZ and Action For Healthy Kids, a nonprofit that works to create healthier schools nationwide. "However, I knew that wasn't going to be the most I'd accomplish out of life in general."
There was always much more Dawes wanted to do, none of which involved a rhinestone-bedazzled leotard. Dawes recalls one day in particular that pushed her to pursue something outside of gymnastics. She was in the midst of her freshman year at University of Maryland College Park and training for her third shot at the Olympics.
"I was writing down my goals as a student and what I wanted to accomplish professionally," Dawes says. "One of my instructors who taught sociology came over to me and said, 'Oh what are you doing?' and I said 'I'm writing down my goals in life.' He said, 'Oh good luck with that, you won an Olympic gold medal; the rest of your life is down hill.'"
This is the pinnacle of my life, not necessarily that gold medal wrapped around my neck.
It's been almost 18 years since that day, and Dawes is proud to say she proved her professor wrong. Though she failed to put a check next to a few items on her initial list (she tells me that, at one point, she wanted to be an undercover FBI agent), the former member of the Magnificent Seven has added a number of impressive accomplishments to her resume. The most important, she says, has been becoming a mom.
"I knew being a mother would be the greatest gift I could be blessed with," Dawes, the mother of 2-year-old Kateri and 10-month-old Quinn, says. Of course, raising girls in a time where social media scrutiny reigns supreme is no easy task. Dawes says she's making a concerted effort to instill self-confidence and strength in her daughters at an early age.
"I think it comes down to teaching them to love themselves," she says. "Having them look themselves in the mirror and truly love everything beautiful and unique about them, and embracing themselves."
Of course, Dawes knows from experience how much easier that is said than done. Having grown up and competed under a microscope, she is no stranger to criticism. And, as a result, she's hesitant to get her girls involved in gymnastics.
"It is a very difficult sport, but there's so much beauty to it," she says. If her girls do find themselves flipping over the balance beam, however, Dawes wants to make sure they aren't defined by that. "When I walk through a door people see Dominique Dawes, The Gymnast, and that's it," she says. "For my girls, I want to make sure their lives are well-rounded."
That doesn't mean she's keeping them in a gymnastics-free bubble. In fact, Dawes and her daughters couldn't be more excited for the 2016 Rio Olympics. Despite competing in three Olympic games, Dawes says she wasn't able to fully enjoy the event until she was invited to attend the 2008 Beijing Olympics opening ceremony. "I got a better sense of how the world was perceiving the Olympics," she says. "It was so much bigger than one individual athlete — it's the whole world. I'm excited to introduce not only my sport but the Olympics to my girls this year."
And she couldn't have picked a better year to bring gymnastics into the family. The 2016 U.S. women's Olympic gymnastics team features five incredibly talented individuals who are predicted to win the gold medal in the team competition and medal in the all-around and individual events as well. And like the rest of the world, Dawes can't wait to see what 19-year-old Simone Biles does in Rio.
"Simone is crushing it," Dawes says of the gold medal hopeful, who she had the pleasure of meeting after the Olympic trials. "She is this happy-go-lucky kid and it's amazing to see."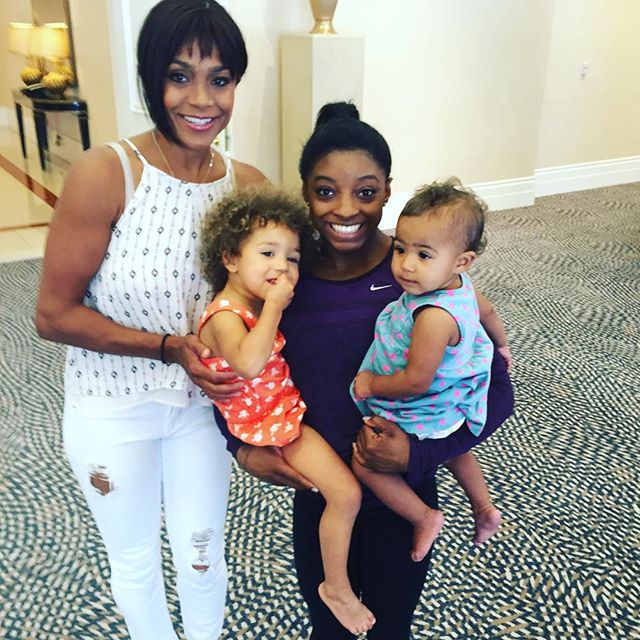 Hearing Dawes talk so passionately about the upcoming games and gymnastics, one has to wonder whether she'd want to reenter the sport that was a part of her life for so long. But Dawes is quick to squash any rumors, saying she's not "wired to be a coach." She still plans to empower and inspire children through her work with GoGo squeeZ and Action For Healthy Kids, and in her role as Chairman of the President's Council on Physical Fitness and Sports. But she has hung up for leotard for good, and has done so with no regrets
"As a wife and mom to two young girls, I truly feel more fulfilled in my life today than I did standing on top of the podium at the Georgia Dome," she says. "This is the pinnacle of my life and not necessarily that gold medal wrapped around my neck."
But, she notes with a smile, that gold medal does feel pretty good.