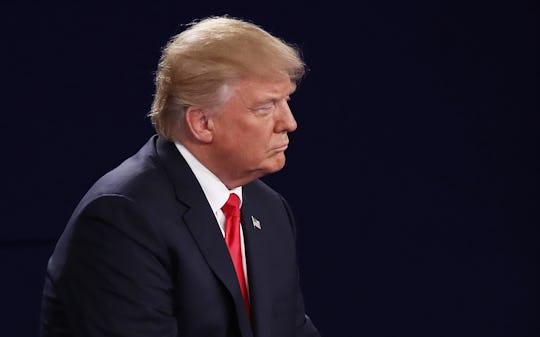 Win McNamee/Getty Images News/Getty Images
Donald Trump Is Sniffling Again At The Second Presidential Debate & It's A Big Distraction
Though there was much to talk about at the second presidential debate, with Republican presidential nominee Donald Trump and Democratic presidential nominee Hillary Clinton vying for the hearts of the undecided voters, it was Donald Trump sniffling again at the second presidential debate that really caught the interest of the internet. After an awkward introduction where the Clinton took the stage and openly refused to shake Trump's hand, the debate began on the biggest issue of the night: the comments Trump made in 2005 during an Access Hollywood interview.
The tension in the air could've easily been cut with a knife, but it was Trump's sniffling that cut through the heaviness of the evening. Weeks earlier, at the first presidential debate that took place at Hofstra University, Trump's ongoing sniffling throughout the entire 90-minute debate had many skeptics and supporters wondering if Trump was sick or if he'd caught the same ailment that had his opponent down. (Clinton was diagnosed with pneumonia with just weeks to go before the debates were underway.) But what was so interesting about Trump's sniffles, however — both at the first debate and tonight — are just how much of a fixture they've become on the debate stage for the candidate.
Just hours after news broke that Clinton had been diagnosed with pneumonia, Trump spoke at a rally in Ohio and used it as an opportunity to call into question his opponent's health. Said Trump to a packed crowd of supporters:
It is always hot when I perform because the crowds are so big. These rooms were not designed for this kind of a crowd … I don't know, folks, you think Hillary would be able to stand up here for an hour and do this? I don't think so.
Trump's continued and ongoing hypocrisy has been a thorn in his candidacy from the very beginning. But the sniffling, however lighthearted, perfectly illuminates the depths of just how low he'll go. If Trump is sick, he's sick, and if he's still not feeling better, then that makes perfect sense. But if we're going to make allowances for Trump to be sick or sniffly and be OK with that, then you better believe we ought to offer that same wiggle room to Clinton. Otherwise, we're just playing Trump's game.