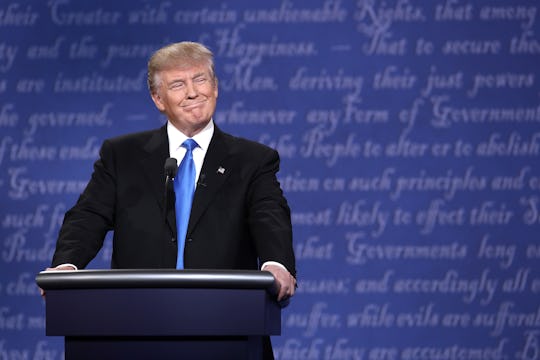 Win McNamee/Getty Images News/Getty Images
Is Donald Trump Sick? His Sniffles At The Presidential Debate Took Center Stage
On Monday evening, Republican presidential nominee Donald Trump and Democratic presidential nominee Hillary Clinton squared off at the first presidential debate. But on Monday night, it was Donald Trump's sniffles at the first presidential debate that truly stole the show — and had everybody talking about the hypocritical nature of his campaign, not to mention his view on health. Just as quickly as The Donald made his first point, Twitter erupted with questions about his health. Questions ranged from concerns about his health — is Donald Trump sick? — to sheer joy that finally, finally the Republican presidential nominee got a taste of his own medicine (or maybe he didn't, which is kind of the problem?).
Trump didn't begin the debate on the high note that we've all come to expect from the real-estate mogul. He seemed low-key and notably low energy, and during Trump's opening statement at the first presidential debate, the state of his health actually spoke far more clearly than anything that actually came out of the GOP presidential nominee's mouth. The problem, of course, is not that Trump is sick (it's cold-and-flu season! People get sick all the time!), it's that he was so actively engaged in attacking the state of Clinton's health a few weeks ago.
Following the news that Clinton had been diagnosed with pneumonia, Trump spoke at a rally in Ohio and used it as an opportunity to call into question his opponent's health. Trump said to a packed crowd,
It is always hot when I perform because the crowds are so big. These rooms were not designed for this kind of a crowd … I don't know, folks, you think Hillary would be able to stand up here for an hour and do this? I don't think so.
As mentioned, the problem isn't that Trump might be feeling under the weather. Traveling from coast to coast and every mountain town and lakeside city in between, it's pretty much a guarantee that presidential candidates are going to eventually get run down. Trump's allowed to get sick. He's allowed to get a cold. The problem, of course, is that it's totally acceptable for his campaign to tear down and attack Clinton's health as a means to say that she's somehow "unfit" for office, yet when the script is flipped, it's totally acceptable for Trump to take the stage at his first debate and sniffle between every third word.
Unsurprisingly, Twitter said it perfectly:
In the spirit of bipartisanship, here's hoping Trump feels better — sniffles and all.