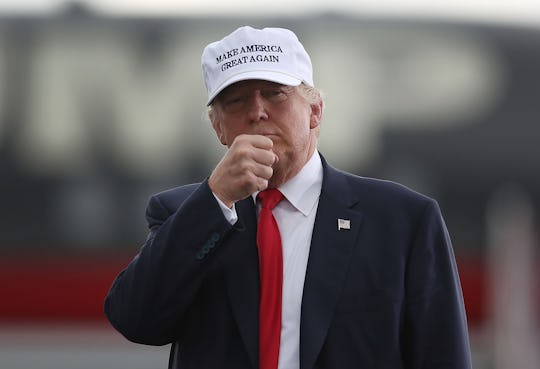 Joe Raedle/Getty Images News/Getty Images
Donald Trump Responds To Allegations Of Sexual Assault & Calls Them Absolutely "False"
On Thursday afternoon, speaking at a rally in Florida, Republican presidential nominee Donald Trump finally addressed the accusations of sexual assault lodged at him by women in the past few weeks. Trump responds to the allegations of sexual assault at the rally and called them "false smears" by the "dishonest" media. Just last week, leaked video from a 2005 interview on Access Hollywood revealed Trump and then-host Billy Bush making lewd, disturbing comments about Arianne Zucker and Nancy O'Dell. The comments included references to Trump making unwanted advances on a married woman and bragging about the fact that he "didn't even have to wait" to kiss women because he's a celebrity. The Republican candidate also mentioned "grabbing" women "by the p*ssy." In a statement given by Trump to the media, the candidate said, "This was locker-room banter, a private conversation that took place many years ago. Bill Clinton has said far worse to me on the golf course — not even close. I apologize if anyone was offended." However, since the video leaked, more women have come forward to accuse Trump of sexual assault, including footage of Trump telling a room filled with 10-year-old girls that he was going to "date them" in 10 years. (He was 46 years old at the time.)
At his Thursday afternoon rally, however, Trump made clear to a room filled with supporters that the accusations made against him are part of a concerted effort by the media and the Clinton campaign to smear his chance at the presidency.
Speaking broadly about the media in West Palm Beach, Florida, Trump said that they will "attack you, slander you," and "seek to destroy everything about you, including your reputation." He continued that they will "lie, lie, lie, and then again, they will do worse than that." He then added that the Clintons are "criminals." He called the allegations against him made by several women spanning several decades a continuation of the "slander and libels" brought against him by the "Clinton machine," as "part of a concerted, coordinated, and vicious attack."
He continued:
These vicious claims about me, of inappropriate conduct with women, are totally and absolutely false. And the Clintons know it. And they know it very well. These claims are all fabricated. They're pure fiction and they're outright lies. These events never, ever happened, and the people that said them meekly fully understand — you take a look at these people, you study these people, and you'll fully understand also. The claims are preposterous, ludicrous, and defy common sense and logic. We already have substantial evidence to dispute these lies and it will be made public in an appropriate way and at an appropriate time very soon.
These lies come from outlets whose past stories and past claims have already been discredited. The media outlets did not attempt to confirm the most basic facts, because even a simple investigation would've shown that these were nothing more than false smears.
Trump then told the crowd that he is planning a lawsuit against the New York Times. Just seconds later, New York Times lawyer David McCraw responded to Trump via a letter published on Twitter and also available on the New York Times' website:
Romper reached out to both Trump in response to allegations of sexual assault as well as Trump's claim that he is preparing a lawsuit against the New York Times but did not hear back at the time of publication. Later on his speech, Trump had this to say about the PEOPLE magazine staff writer who accused him of sexual assault:
As if he hadn't already made his vicious contempt for women completely clear, he's more than spelled it out for everyone now. Suffice it to say, it's going to be a very long, very dangerous countdown to Election Day.