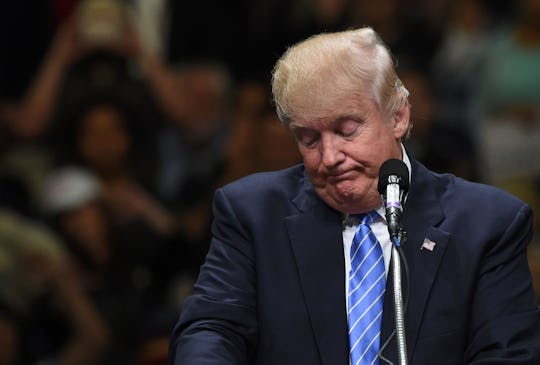 ROBYN BECK/AFP/Getty Images
Donald Trump Said Pregnancy Is An Inconvenience To Business, & Moms Should Feel Pressure
Now that Donald Trump has enough delegates backing him to officially win the nomination come the Republican National Convention in July, people are working overtime to find damning instances of his views. Unfortunately, they don't have to dig very deep: NBC News recently republished a 2004 interview with the White House-minded business mogul that angered plenty of women. In it, Trump says pregnancy is an "inconvenience" to businesses, and suggests that perhaps women should feel the pressure to return to work quickly after giving birth.
It's one of his more direct comments on policies about women's issues. On the campaign trail, Trump's views on women's issues have been a bit more indirect — realistically, however, one need only look at Trump's treatment of women to realize his maternity leave comments aren't surprising. He's implied that journalist Megyn Kelly had her period when she asked debate questions he didn't like; he's said Clinton is "playing the woman card" and wouldn't get five percent of votes if she were male; and he's insinuated that sexual assault in the military isn't surprising. Oh, and he's made a clear point with his hiring practices, too: according to The Huffington Post, men make up 75 percent of Trump's campaign staff (it also appears he also pays men in similar roles more money).
The 2004 interview with NBC News lays a new nail in the coffin of Trump's relationship with women. NBC originally interviewed Carolyn Kepcher, who, at the time, was vice president of Trump Golf Properties, and asked her why she'd waited six months to tell Trump she was pregnant. Kepcher explained to NBC:
I thought, oh, if I tell him I'm pregnant, he's going to think, 'Oh, this is going to be a long nine months.' So, if I tell him at six months, it'll be over in three months. ... Maybe, in my mind, he might think, 'This would perhaps be a setback or maybe I'm going to have to bring somebody in to replace her when she takes a maternity leave,' so I mean, I'm human. These things certainly went to my mind.
Trump was more than happy to answer NBC's questions regarding Kepcher's concerns:
Pregnancy is a wonderful thing for the woman, it's a wonderful thing for the husband. It's certainly an inconvenience for a business. Whether people want to say that or not, the fact is, it is an inconvenience for a person that is running a business.
When asked if Kepcher may have felt pressure to return to work, Trump quickly dismissed the idea, saying Kepcher loved her job. Asked if Kepcher may have felt pressure to return due to fear of being replaced, Trump said, "No, although it's an interesting premise. Maybe she should feel that way a little bit, but the fact is no, that would not have happened."
Trump seems fairly confident that he'll be able to win over women come election time, but he's waging a pretty intense battle against himself, both past and present versions. If he wants to win over the women of the United States, he's got a lot of backpedaling to do — all the way back to about 2004, really.