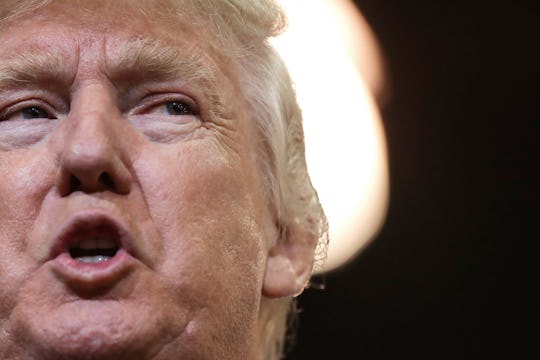 Chip Somodevilla/Getty Images News/Getty Images
Donald Trump's FBI & Clinton Email Comments Prove He Doesn't Understand The Issue At All
When the FBI announced it would again examine the email controversy that has plagued Hillary Clinton's presidential campaign because it discovered a cache of reportedly unrelated communications while investigating a former congressman (who had allegedly sexted a teenager), it certainly seemed as though the situation could not get much more bizarre or confusing. But, somehow, it did. Shortly after the revelation Friday (little more than a week before Election Day), Clinton's opponent gleefully told supporters that this scandal — which is still unclear and may not be related to Clinton herself, given that reportedly none of the discovered missives came from Cinton's servers at all — was "bigger than Watergate." Although Clinton's email scandal itself is troubling and the context of the vague new development totally opaque, it's definitely no Watergate, and Donald Trump's FBI and Clinton email comments show that his understanding of the complicated associated political maneuverings is tenuous at best.
Update: In a statement to CNN on Sunday evening, law enforcement officials claimed that the trove of messages found on Weiner and Abedin's shared computer was initially discovered weeks earlier, though Comey waited until this past weekend to unveil the news, further fueling tensions between skeptics.
Clinton's use of a private email server during her time as Secretary of State has been the gloomy cloud over her campaign since it began, fueling the public perception that she's not trustworthy. An FBI investigation nearly four months ago concluded with the recommendation that no charges be filed. But FBI director James Comey wrote in a letter to Congress last week that the organization had "learned of the existence of emails that appear to be pertinent to the investigation" while investigating "an unrelated case."
The letter provided nearly no information about the nature of the emails, whether they are duplicates of the ones the FBI already reviewed, or whether they are addressed to or from Clinton herself. But news soon emerged that the FBI had found the emails on a computer used by both Anthony Weiner, the onetime congressman under investigation for allegedly exchanging lewd messages with a 15-year-old girl, and his estranged wife, Huma Abedin, who is also Clinton's most prominent aide and among her closest confidantes.
The story has political intrigue, people in power acting irresponsibly, marital strife — so, Trump, predictably, pounced. "They are reopening the case into her criminal and illegal conduct that threatens the security of the United States of America," he said at a rally in New Hampshire soon after the letter went public. "Hillary Clinton's corruption is on a scale we have never seen before."
A few fact-checks on what Trump claimed: Nowhere in the brief letter is there any declaration that the case has been reopened, and CNN has since reported that Comey sent the letter despite the concerns of Attorney General Loretta Lynch that doing so would disregard the Department of Justice's guidelines not to comment publicly about investigations that could influence political races within two months of elections.
He then made perhaps an even more astonishing remark. "This is bigger than Watergate," Trump told the crowd, referring to the political scandal that led to the resignation of President Richard Nixon in 1974 and to the sentencing of many in his administration to prison. "This is bigger than Watergate. In my opinion. This is bigger than Watergate."
Watergate is, of course, shorthand for the corruption that some believe still defines American politics. The massive 1972 coverup of the break-in and wiretapping at Democratic National Convention headquarters to get an edge in the upcoming election went all the way up to the president himself, and 48 of Nixon's aides and coconspirators were found guilty, although Nixon himself was pardoned by his successor, Gerald Ford, The Washington Post reported. By contrast, there have been no charges of criminal wrongdoing in relation to the Clinton email scandal.
Even Carl Bernstein, one of the Washington Post reporters who aggressively reported on the Watergate story, called out the false equivalency on Twitter, while still acknowledging that Clinton's actions were, in his view, "reckless and mendacious."
Clinton herself has responded to the newly revived controversy by demanding more information, insinuating that the Republican FBI director may have political motives. "It's pretty strange to put something like that out with such little information right before an election," she said at a rally in Daytona Beach, Florida, according to The New York Times. "In fact, it's not just strange; It's unprecedented and it is deeply troubling."
Comey seems to have found himself in a lose-lose scenario, as he definitely would have been accused of withholding information from the public if he had decided to wait until after the election to reveal the FBI's findings. But for Donald Trump, a move that favors him is the only fair one, as evidenced by his recent emphatic declarations that the election (and the media) is rigged against him as his poll numbers slid after a video of him bragging about allegedly touching women sexually without permission surfaced — and then women began to come forward and claim that he had in fact allegedly done those things to them as well (Trump has repeatedly denied those claims). "It might not be as rigged as I thought, right? Right?" he said at the same rally, upon learning that the FBI's decision could only hurt Clinton.
What Trump doesn't understand is that when the media, or authorities, report on what a candidate actually did or said, that's not evidence of a rigged system. He does not appear to grasp the nuances of the email controversy. He considers the negative press it generates for Clinton as fair and just, while he views similarly damning news stories about him as proof of an elaborate smear campaign. He's totally comfortable conflating the email situation with Watergate, but can't tolerate the well-deserved political fallout that his own actions often precipitate.