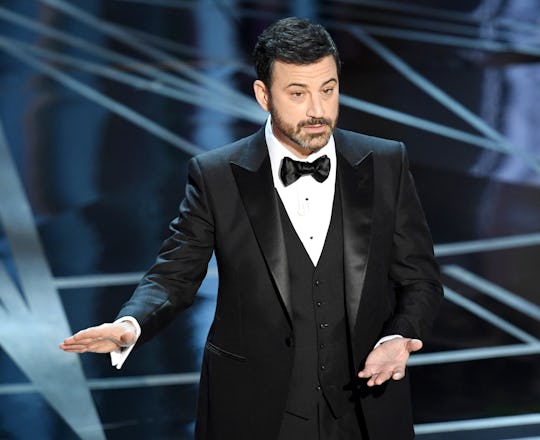 Kevin Winter/Getty Images Entertainment/Getty Images
Trump's Response To Jimmy Kimmel's Oscars Skit
Jimmy Kimmel opened the 2017 Oscars with more than a few comments and jokes about the current political climate, and President Donald Trump in particular. Of course, it seemed like a foregone conclusion that Trump will end up having something to say about it. Though he couldn't be reached in the moment, Donald Trump's response to Jimmy Kimmel's Oscars opening monologue won't be all that shocking whenever he does decide to comment. (And trust me, you know he's going to.) It's only a matter of time before our Tweeter in Chief weighs in on Kimmel's opening skit, and if his past comments are any indication, we're in for one loaded response. Romper reached out to President Trump for comment but did not hear back at the time of publication. Update: On Monday, President Trump spoke to Breitbart News about the Oscars and had the following to say:
"I think they were focused so hard on politics that they didn't get the act together at the end. It was a little sad. It took away from the glamour of the Oscars. It didn't feel like a very glamorous evening. I've been to the Oscars. There was something very special missing, and then to end that way was sad."
Earlier: Kimmel poked fun at Trump's penchant for commenting on award shows by bringing up the tweets made by Trump following Meryl Streep's Golden Globes speech, which referred to the actress as "overrated." Kimmel asked the audience to give the "overrated" Streep a standing ovation, then asked if her dress was "an Ivanka." Kimmel was also definitely aware that a comment from Trump about the opening monologue would be forthcoming, joking that Trump would likely tweet his reactions around 5 in the morning.
Trump likely wasn't watching the Academy Awards live, however, so he wouldn't have seen Kimmel's monologue play out in real time. The night of the Oscars ceremony, Trump was hosting the Governor's Ball at the White House, so he probably wasn't staying up to date on every mention of him — presumably, anyway. One would hope that he was focusing on more pressing matters than Kimmel's opening monologue.
If he was hearing about every mention of him as they unfolded, his reaction probably would have come a lot sooner. The most recent tweet on his account was about the Governor's Ball, but a tweet of his from two years ago may be surprisingly prophetic when it came to summing up his feelings about this year's ceremony (or at least one could assume).
Trump may not have addressed the Oscars jokes about him just yet, but odds are as soon as he's caught up he'll have something to say. When it comes to Trump addressing less than favorable comments about him, it's not a question of if, but a question of when. It might be later rather than sooner, but it's just a matter of time.