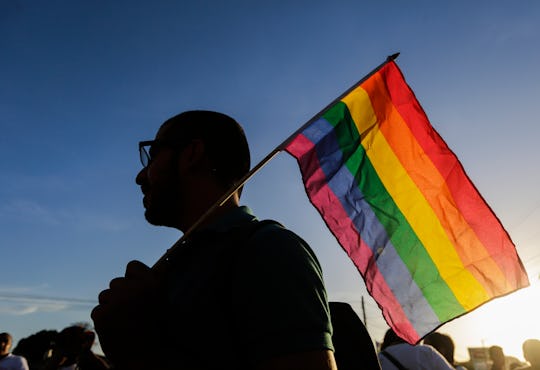 INTI OCON/AFP/Getty Images
Don't Read The Orlando Shooter's 911 Call Transcripts — Honor The Victims Instead
On Monday, the Federal Bureau of Investigation released partially redacted transcripts of 911 calls made by the Orlando shooter, 29-year-old Omar Mateen. On June 12, Mateen gunned down a crowd of over 320 at Pulse, a popular LGBT nightclub in Orlando, leaving 49 people dead and another 53 people wounded. In what would become the deadliest mass shooting in American history, the shooter himself was shot and killed when Orlando Police stormed the club. As Mateen terrorized the people in the club, he placed a 50-second call to 911 shortly after 2:30 a.m. But you shouldn't read the 911 transcript or watch videos from the club, and here's why.
Initially, the FBI released a redacted version of the Orlando shooter's 911 transcript on Monday morning, but the Justice Department reversed its decision to release the full transcripts after facing harsh criticism by House Speaker Paul Ryan. The Justice Department initially redacted parts of the transcript in an effort to prevent terrorist organizations from using the transcripts as propaganda for their cause. Audio recordings of the 911 Orlando shooter's calls have not yet been released, and it is not yet known if they will ever be released.
But really — it doesn't matter. People shouldn't read these transcripts or listen to 911 recordings, even if they are released in the future. Instead, everyone should honor the 49 victims of the Orlando shooting instead.
It's a surreal mosaic of the 49 faces of the people killed at what should have been just another hot night of fun in Orlando. The 49 victims of the Orlando nightclub shooting came from every walk of life imaginable — some were married, some were parents, all of them someone's daughter or son — and every single one of them gone too soon.
It's easy to get caught up in the "shooter hype" that often follows a mass shooting: Who was the shooter? What were his or her motivations? What kind of gun did they use? And while yes, those are important questions, answering them shouldn't overshadow 49 histories, 49 faces, 49 lives snuffed out in a hail of gunfire. Sure, we can remember their names, and in many ways, how can we forget the likes of Dylan Klebold and Eric Harris, Seung-Hui Cho, or Adam Lanza? These are names that have etched deep scars into the collective memory of our country — and Mateen's has carved yet another deep one.
But I don't want to remember the Orlando shooter — and despite the controversy and speculation surrounding Mateen's sexual and religious identities – truth be told, he doesn't deserve to be remembered. To be perfectly candid, I wish everyone would pull a Sansa Stark from Game of Thrones: "Your name will disappear." Yes, he leaves behind a paper trail of 911 transcripts and even gruesome video footage taken from inside Pulse — but why give the Orlando shooter that kind of attention or worse, allow his name to define what happened on June 12?
The Orlando shooting at Pulse has left the deepest wound in the American psyche. We shouldn't be trying to fill that void with stories about the shooter; instead, we should be filling our aching hearts with the stories and lives of the people who were killed, and all of their amazing contributions to society that will never fully be realized. Let's not forget that these 49 victims died during a celebration — of Latino culture, of gay pride — a celebration of simply living and being in the moment.
It's our responsibility to keep that celebration going by honoring the victims, telling their stories, and remembering each of their 49 names before the shooter's name or cruel intentions.