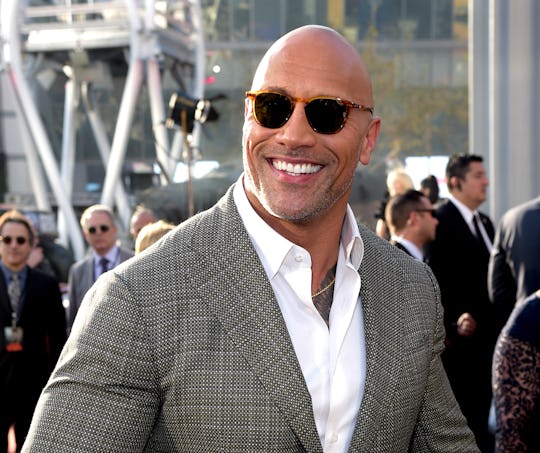 Kevin Winter/Getty Images Entertainment/Getty Images
Dwayne Johnson Had The Sweetest & Silliest "Convo" With His 3-Month-Old — VIDEO
Perhaps following in her father's footsteps and getting into the acting business is in the cards for baby Tiana. Dwayne "The Rock" Johnson and girlfriend Lauren Hashian only welcomed Tiana three months ago, and the little cutie already has a knack for articulating her feelings on camera. In fact, Lauren Hashian and Dwayne Johnson's "morning convo" with the 3-month-old will have you simultaneously laughing and cooing at the adorable-yet-hilarious parenting moment.
On Sunday, Hashian Instagrammed a video of the silly interaction, featuring Tiana laying on her back and looking up at her parents. "Those are our favorite to have. Would you like those chilled or…?" Johnson asked Tiana in the video. "On the rocks?" Hashian finished. Tiana's reply? An adorable, squirmy squealing noise. "Yes, we can go there," Johnson responded. (I guess he was able to interpret her squeal as a suggestion of a restaurant, naturally.) Tiana was evidently happy with the news, based on her smiley, squirmy reaction. "That's fantastic, I love that idea," Johnson replied. "We love it," they both concurred.
As Tiana kept squealing, The Rock kept the "convo" going. "Would you like to say some more?" he asked. "Oh absolutely! We love that song too," he joked, while Tiana squealed away.
This was not the first time that Johnson and Tiana shared a "convo." Last month, he posted a video to Instagram of himself holding Tiana in his arms. "Do you have the sexiest daddy in the world?" he joked. Tiana responded with a cute little noise, to which The Rock said, "I know, I know, right? And the coolest daddy in the world?" As Tiana continued to make teeny squeals, Johnson continued to fish for compliments, as he put it in the video's caption. "Me: I'm gonna just fish for compliments all day when I hold you in my arms," Johnson wrote alongside the clip. "Baby Tiana Gia: I'm gonna look up at you with my gummy smile and just love, appreciate and marvel at all this Daddy Goodness I see," he added.
Hashian gave birth to Tiana Gia Johnson in April, according to a post Johnson shared on Instagram. "Blessed and proud to bring another strong girl into this world," he captioned a photo of himself doing skin-to-skin with his newborn shortly after she was born. "Tiana Gia Johnson came into this world like a force of nature and Mama @laurenhashianofficial labored and delivered like a true rockstar."
Johnson also shares 2-and-a half-year-old daughter Jasmine with Hashian, and 16-year-old daughter Simone with ex-wife Dany Garcia. It's clear that he absolutely loves being a father — and he has opened up about that on multiple occasions. In a November 2015 appearance on Oprah's Master Class, when Hashian was pregnant with Jasmine, Johnson opened up about the importance of being a dad to his daughter Simone. According to People, he said on the show:
I realized being a father is the greatest job I have ever had and the greatest job I will ever have. I always wanted to be a great dad. I always wanted to give Simone things that I felt I never got. I said to her, "I will always, always take care of you, for the rest of your life. You are safe." ... Throughout the years, throughout the ups and downs, I've realized that the most important thing that I could do with my daughter is lead our life with love ... Not success, not fame, not anything else but, "I'm always here for you. I love you."
Here's hoping Johnson and Hashian keep cranking out adorable Tiana content — the tiny future actress might just need it for her reel.