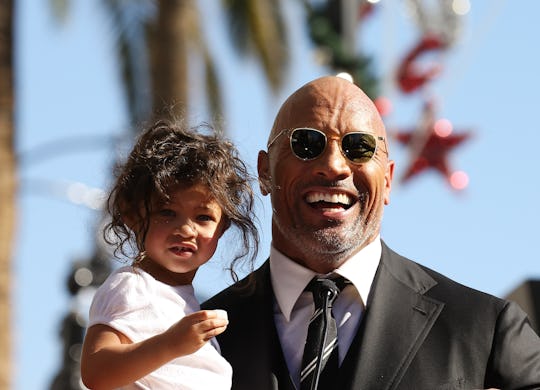 Michael Tran/FilmMagic/Getty Images
The Rock Reveals He, His Wife, & Their Two Daughters All Tested Positive For COVID-19
As the coronavirus pandemic continues to impact millions of people around the world, Dwayne Johnson revealed his family tested positive for COVID-19 and called the diagnosis "one of the most challenging and difficult things that we have ever had to endure as a family" in a candid video on Instagram.
On Sept. 2, Johnson shared on Instagram that he, along with his wife Lauren Hashian and their two daughters, 4-year-old Jasmine and 2-year-old Tiana, all tested positive for the novel coronavirus. The actor and retired professional wrestler, who's also known by his ring name The Rock, said in the video that they are no longer contagious and are "on the other end" of the virus, but going through it wasn't easy.
"I can tell you that this has been one of the most challenging and difficult things that we have ever had to endure as a family and for me personally as well," Johnson explained. "And I've had some doozies in the past...but testing positive for COVID-19 is much different than overcoming nasty injuries or being evicted or even being broke, which I have been more than a few times."
The Rock shared that his daughters had a sore throat the first few days, but quickly bounced back and are "happy babies running around." He and his wife, however, experienced different symptoms and had "a rough go" with the virus after they caught it from close family friends who Johnson said they love and trust. "Luckily we were able to control it and mitigate it and it didn't spread," he said in the video.
"We got through it as a family," Johnson added. "We did it together."
Johnson said his biggest takeaway from catching COVID-19 is to "fight it" and focus on wellness. He advised his followers to focus on their health by staying hydrated, taking vitamins, boosting their immune systems, and wearing a mask. "I care about all of you and do not want your entire family to get COVID-19," he told his followers.
To date, there are now a total of more than 6.1 million cases of the coronavirus reported in the United States, according to The New York Times. To help limit the spread, the Centers for Disease Control and Prevention (CDC) recommends washing your hands frequently, covering your mouth and nose with a cloth face covering, and cleaning surfaces in your home.
Dr. Anthony Fauci, the nation's leading expert on infectious disease, said earlier this week that the amount of cases in the United States are "unacceptably high" heading into the fall, according to CNBC. "I want to use this opportunity to almost have a plea to the people in this country to realize that we really need to get our arms around this and suppress these types of surges we've seen," Fauci said.
The best way to prevent illness is to avoid being exposed to it, according to the CDC. As such, Johnson said that he will make sure his friends and loved ones undergo testing before he hangs out with them again. "Use me as your example," he said in his Instagram video. "Remember these takeaways that I shared with you and stay healthy, my friends, and I'll see you down the road."
If you think you're showing symptoms of coronavirus, which include fever, shortness of breath, and cough, call your doctor before going to get tested. If you're anxious about the virus's spread in your community, visit the CDC for up-to-date information and resources, or seek out mental health support. You can find all of Romper's parents + coronavirus coverage here.