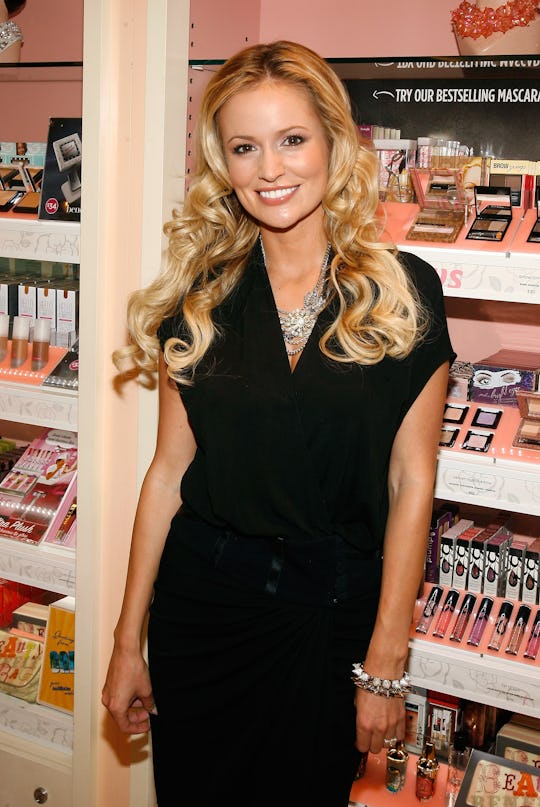 Mike Lawrie/Getty Images Entertainment/Getty Images
Emily Maynard Johnson Has A Super Relatable Worry About Having 3 Kids All Under 3
Having three children in less than three years is not for the faint of heart. But even the brave families that take on the task have their worries, such as former Bachelorette Emily Maynard Johnson's fear that her children might kill each other. Oh, don't pretend to be shocked. Anyone with more than one child has likely had the same troubling thought about their own family. It's not even sibling rivalry that Maynard Johnson's worried about, but just that eventually someone is going to fall victim to playroom mayhem.
Johnson has four kids, and three of them are under 3 years old, which is just complete chaos. There's 12-year-old Ricki from a previous relationship, and then Gatlin Avery, who's 6 weeks old, Gibson Kyle, who's 15 months old, and Jennings Tyler, who is now 2 years old, with husband Tyler Johnson.
The 31-year-old told People, "I've always wanted a lot of kids. I made it clear on our first date. Listen, my clock's ticking, and I'm ready to get on this!" Her quickly growing family is proof that wishful thinking sometimes becomes the reality you've always wanted. She added that though she was excited to have the three boys so close in age, it does get pretty rowdy.
"Occasionally I do think they're going to kill each other. The baby has taken a couple of play hammers to the head," she told People.
Here They All Are Together
It's obviously something that she thinks about on the regular. Just earlier this month, she posted a picture on Instagram, sharing her one big wish for her youngest kids. "One of my greatest wishes is that one day Gibson is bigger than Jennings and can repay him for all the times he beat him up as a baby," she captioned a hilarious playroom picture.
Things are obviously pretty out of control in her household. Just before Thanksgiving, and only a few weeks after giving birth to her fourth kid, she captioned a picture, "My first outing as a mom of four. If you need me ever again, I'll be at home forever."
Maynard Johnson is proof that you seriously never know what life will throw your way. She said in the same People interview that after learning she was pregnant at 18 years old just after her boyfriend died in a plane crash and then going through two very public breakups (one after getting engaged to Brad Womack on his Bachelor season and another with Jeff Holm after her Bachelorette season), she shared that she really thought she was going to be a single mom forever.
According to her People interview, she added:
I think back to where I was five years ago, going through another public breakup, and I gave in to the idea that maybe marriage and that life was not for me. I really had to come to terms with the fact that maybe it was going to be just Ricki and me forever. Then I met Tyler, and I knew that was not the plan. Now I couldn't imagine my life any other way.
Through it all, Maynard Johnson really knows how to keep her sense of humor, which is obviously pretty necessary with so many kids, so close in age. She revealed her pregnancy with her fourth with a social media post admitting that her pregnancy with baby Gatlin was full of good snacks, ranch dressing and tacos specifically, and even an emergency appendectomy.
She wrote, "Way too many tacos at lunch. Seriously though, as scared as I am to have 3 under 3, I'm so grateful God picked me to be the mommy to my kids and we can't wait for number 4 to get here!"
Surely, with that attitude, the family of six can make it through anything. Provided the older kids stop taking the plastic hammer to Gatlin's head — the poor thing can't be happy about that.
Check out Romper's new video series, Romper's Doula Diaries:
Watch full episodes of Romper's Doula Diaries on Facebook Watch.