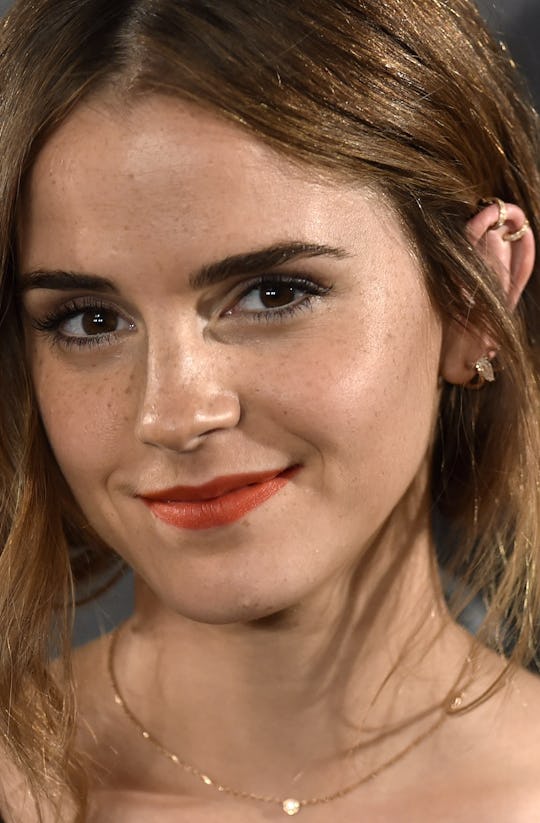 Emma Watson's Tweet About Alan Rickman's Death Proves The Actor Was A Great Feminist Too
It's not surprising that, following the death of Alan Rickman, the Harry Potter community would come out to mourn the man they know best as Severus Snape. But Emma Watson's Twitter tribute to Alan Rickman proved there's so much more to the man than just long, black hair and a powerful wand. In just one tweet, Watson shifted attention from Rickman's great roles, to Rickman's great mind. Because in less than 140 characters, Watson reminded the world that Rickman is a feminist.
Shortly after J.K. Rowling and other members of Harry Potter elite tweeted their support of the actor, who died Thursday following a battle with cancer, Watson (who earlier called Rickman a "special man and actor" in a Facebook post) came to the table with the meme below, which quoted Rickman saying:
There is nothing wrong with a man being a feminist, I think it is to our mutual advantage.
The origin of the quote in question comes from an interview on One Plus One, during which he discussed his 2014 film, A Little Chaos. The film, in which Rickman played King Louis XIV, centers around a woman who transcends gender norms while designing Versailles gardens. "It's sad that the situation still persists," Rickman said about women in the era being treated as objects. "I mean, you still have women as decorative objects all over the media."
Add to this the fact that Rickman starred alongside Watson in the Harry Potter series, one that celebrates women's minds and powers, and you have another reason to love and respect Rickman, always.
Image: AFP/Getty