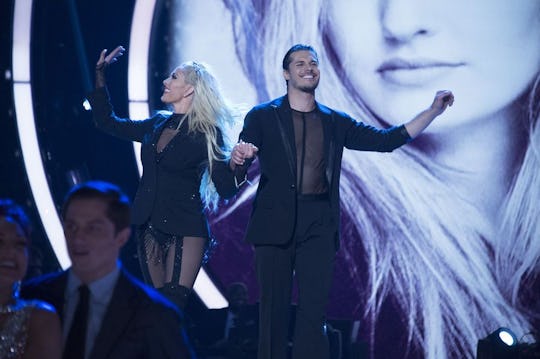 Eric McCandless/ABC
Another 'DWTS' Contestant Said Goodbye On Disney Night
She almost made it to the halfway mark on Season 24, but Erika Jayne was eliminated on Dancing With the Stars during Disney night of all nights. And after a performance that earned her the highest score for herself and partner Gleb Savchenko, it was sad to see Jayne go. Until Monday night, all of Jayne's performances on DWTS had been about being sexy, daring, and sometimes a little flashy too, but it turned out that the best thing for the singer and Real Housewives of Beverly Hills star was to be vulnerable and open in a different way.
Jayne and Savchenko performed a Viennese waltz to "Unforgettable" from Finding Dory and it was a definite change of pace (literally) for the pair. And it really worked for Jayne as a dancer. Through slow, deliberate, and fluid movements, they seemed to glide across the ballroom floor and the judges noticed how much the dance and song changed her in the moment. Bruno told Jayne that through the dance, he could see her fragility and to "show more of that, because it's worth it."
Carrie Anne, who can sometimes get a bit technical and picky, even told Jayne, "Forget princesses — you were a queen." Unfortunately, though, Jayne and Savchenko's performance for Week 5 wasn't being calculated for the possible elimination Monday night. And even though Jayne really opened up emotionally and physically in a way she hadn't yet done this season on DWTS, she was still eliminated in the end.
Jayne earned her highest score of 32 out of 40 for Monday's number, but the week before that she didn't get nearly as much love for her cha cha to Madonna's "Express Yourself." But it was still a good way to go out, if there is such a thing. She lasted almost half of the season and left after performing a dance that obviously took her out of her comfort zone but helped her tap into something special.
After her Disney week performance, Jayne said that she had no choice but to bring out this side of her to be able to perform well on the ballroom floor and obviously she blew fans away with her Viennese waltz. Honestly, if she'd been able to stay another week, she might have survived thanks to her increasingly good stats, but it just wasn't in the cards for her, as sad as it may be.