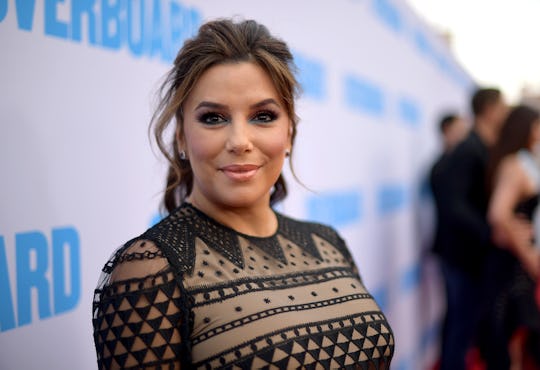 Matt Winkelmeyer/Getty Images Entertainment/Getty Images
Eva Longoria Shows Off Her Baby Boy's Face For The First Time With The *Cutest* Reveal
Eva Longoria welcomed her first son, Santiago Enrique Bastón, into the world on June 20. The milestone was an exciting one for Longoria, to put it mildly, and she has been soaking up the joys of motherhood in private ever since. Luckily for fans, however, Longoria emerged from her cocoon of postpartum happiness on Tuesday to share some exciting news. That's right, folks — the first photo of Eva Longoria's son's face has arrived. The newborn made his debut alongside his momma in ¡Hola! USA magazine, according to People. Spoiler alert: there's a lot of cuteness to take in.
Ever since Longoria announced the birth of Santiago back in June, she has only shared a few snaps of his head. Although all of the pics are adorable, fans have been itching to see a shot of his little face. Longoria must have noticed fans' eagerness because she shared a picture of Santiago's precious mug to Instagram on Tuesday.
"Here he is! Santiago Enrique Baston is waving hello at the whole world! Couldn't wait to share this picture with y'all!" Longoria penned, according to Instagram. "Thanks to @usahola and @bernardodoral for capturing these beautiful moments with my newborn son! 👶🏻#BabyBaston #HOLAUSA @bernardodoral 💇🏻‍: @kenpaves 💅: @beautybyelan 👗: @charroxstylist."
Aww. Too adorable, right? I especially love Santiago's little wave to the camera, and it looks like he's already a star in the making. I guess baby Santiago takes after his famous mommy.
As for fan reactions to the pic, it's safe to say people can't get enough of the newborn. The pic has garnered over 200,000 likes since it was first posted, and there are a ton of gushing comments.
"Omg!!! What a cute baby!! I don't know why I'm surprised because look at his parents. Lol," one person penned.
A fan chimed in: "Such an adorable baby boy!"
"He's waving...Hello everyone! How beautiful!" someone else said.
"Oh goodness I knew her baby would be gorgeous but omg," a commenter added.
Others commented on Longoria's breathtaking post-delivery glow. There's no denying the new mom looks absolutely stunning.
"Motherhood has made you even more beautiful than you already are," a smitten fan wrote. "It must be that pure joy that's always in your eyes."
"Hello hottie," another person said.
"Omg so adorable!! Your smile says it all!!," someone added. "Congrats on a handsome little baby boy!"
But wait — there's even more to cuteness digest. Longoria, who participated in the photoshoot from the comfort of her own home, also opened up about bonding with Santiago. "It's magical. I feel like I've known him my whole life," Longoria gushed, according to People.
Did anyone else's heart just melt or is it just me? What a beautiful way to describe parenthood.
Of course, Longoria's foray into motherhood hasn't been a total cakewalk either. Just like any parent out there, Longoria's parenting journey is full of highs and lows. Want proof? Look no further than Longoria's candid post about breastfeeding shortly after the photoshoot took place.
"First photo shoot after pregnancy! Not gonna lie, this one was hard!" Longoria wrote, according to Instagram." Trying to breastfeed and work around Santiago's schedule ... "
See? Longoria is just like every other person out there who is trying to master the balance of parenting and a career. Although Longoria's life is admittedly more glamorous than most people, it doesn't negate her struggle to make it work. All parents face some level of pressure, famous or not.
Hectic schedule aside, it's clear Longoria is over-the-moon to be the mom of little Santiago. Both Longoria and Santiago look like they're doing great, and their cute magazine cover is one for the history books.