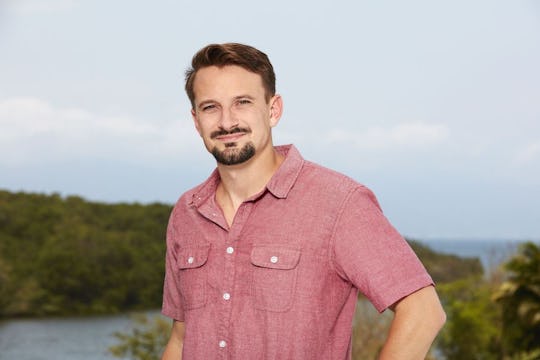 ABC/Craig Sjodin
Evan Makes A Fake Date Card On 'Bachelor In Paradise' Because He Does "Deserve Love"
The whole idea of Evan trying to steal Amanda from Josh on Tuesday night's episode of Bachelor In Paradise was doomed from the beginning. When Carly officially turned him down and ended what they had before it even really started, Evan decided to pick himself back up and try to go after someone else. But when Evan makes a fake date card on Bachelor In Paradise in order to "steal Amanda" away from Josh, it's just too much. It may have not been the most normal way to get a date, but give the guy a break. He's just had his heart broken, and so soon after the season began, so you can't really blame the guy for wanting to find love before it's too late.
As Evan watched the "Sexy Six" have what can only be described as the most awkward adult make out party ever on the beach furniture, he thought long and hard about how to turn things around in paradise and make it possible to stay another week to find love with someone else, if Carly was seriously going to be done with him. And then a light bulb seemed to go on in the erectile dysfunction specialists's brain. If Bachelor In Paradise producers weren't going to give him a date card to use, then he would take it upon himself to be the master of his own fate in paradise.
Obviously Evan's totally weird, cringe-worthy, and completely unorthodox way of snagging a date on Bachelor In Paradise was not normal. And we had every right to be shaking our heads in disbelief with mouths hanging wide open as he wrote out the fake date card. But like Evan said, he does "deserve love" too. No, being dumped by Carly before they were in a relationship doesn't mean that it's all over for him and he'll never find love again, but with the rose ceremony is fast approaching on Bachelor In Paradise, it definitely has to feel that way.
So what will happen when Evan interrupts Amanda and Josh making out long enough to ask her on a date, per his fake date card? She'll probably do the nice thing and go with him, but that doesn't mean her heart won't still be back with Josh. However if the promos for the next episode are any indication, then Evan will be armed with the knowledge of Andi Dorfman's tell-all book so he can paint Josh Murray in the worst light possible. Which won't be good for Evan's own well-being, but he deserves this second chance at love too, right?