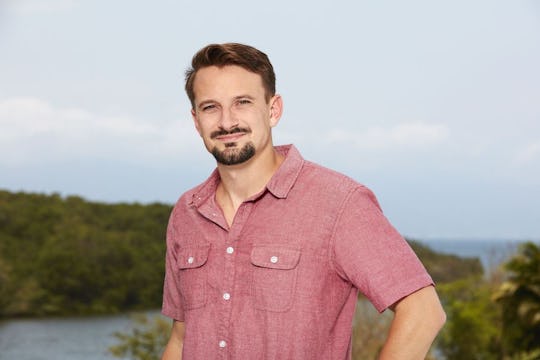 ABC/Craig Sjodin
Evan Takes Amanda On A Date On 'Bachelor In Paradise' & It Doesn't Go Too Well
Oh, Evan. The "awkward dick doctor," as Vinny affectionately called him, certainly went through the ringer early on Bachelor in Paradise. Initially, he liked Carly and thought he was falling in love. Carly...not so much. But Evan did not skip a beat, and instead chased after Amanda – even though she was in the middle of a date with Josh. Evan took Amanda on a date on Bachelor in Paradise and it was pretty cringeworthy.
We remember Evan Bass fondly(?) from JoJo's season of The Bachelorette. The erectile dysfunction expert and father of three left a big impression on the show, despite not lasting long. His claims to fame were sticking it to Chad and, well, being an erectile dysfunction expert. Despite his eccentricity, or perhaps due to it, JoJo let him go partway through the season. It was clear, though, that he was memorable, if not a fan favorite, which is probably why he was brought back to Paradise.
Evan wasted no time proclaiming he found love with Carly. They went on one date and kissed. While Evan felt butterflies, Carly...did not. In her own words, "That kiss was so terrible." Needless to say, their affair did not last long. He bounced back, though, and decided it was actually Amanda who he loved, and who he came to Paradise for. But there was only one problem: Josh.
So Evan makes his own date card for Amanda – you have to give him points for being creative – and interrupts Amanda and Josh's endless make-out session. pulls the classic "can I steal you for a second?" line to be alone with Amanda. He confesses to her that she was the reason he came, and that he noticed her from the first night but was too scared to say anything and was now afraid it was too late.
Amanda was amazingly respectful, and told Evan that Josh > him (in nicer words). The date bombed, but Evan is the cockroach rising from the Paradise ashes and continues his quest for love nonetheless. Later in the episode he confronts Amanda about Andi Dorfman's allegations that Josh was abusive. For what it's worth, Evan's tactics have been 0 for...we lost count at this point, but if anything we know he is resilient – and as he wrote on his fake card, he does deserve love. Will he find it on Paradise? Super unlikely, but we'll keep watching to see.