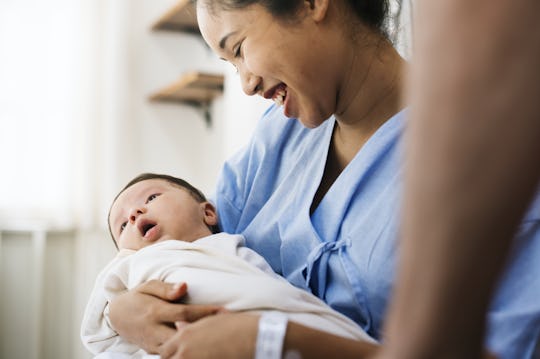 Shutterstock
Every Maternity Ward Has A "Cool Mom." Here Are 10 Signs That Mom Was You.
The maternity ward is a cool, weird place. You're surrounded by people but mostly keep to yourself. You're not super mobile and, obviously, you're pretty busy. But every now and then, a patron saint arises. She is there, seemingly, to serve as a beacon of hope for all the other postnatal folks waiting for their discharge papers. Yes, the cool mom of the maternity ward exists, and there's a solid chance you were her and just didn't realize it.
Full disclosure: I wouldn't necessarily count on being the Cool Mom your first time around. It's not impossible, but so much about being a Cool Mom, at least as far as I can tell, relies on experience and perspective. And, like I said, mostly the only people you're going to see while you're recovering in the hospital are your baby, your nurses, and whatever visitors stop by.
Obviously, no one is in a maternity ward for anyone's benefit but their own. And there's nothing wrong with you or your parenting if you never, ever become a Cool Mom, whether it be in the maternity ward or anywhere else. But sometimes you may luck into encountering a ray of maternal sunshine. Maybe you're rooming with her. Maybe you run into her in the kitchen. Perhaps you sit next to her during a breastfeeding class or support group. Maybe you are her. Either way, the following signs will let you know if you are in the presence of, or simply are, the cool mom of the maternity ward: