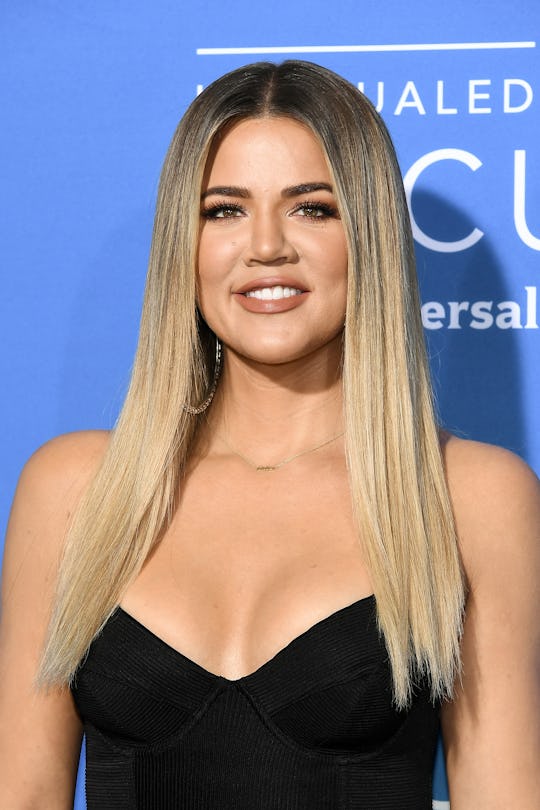 Dia Dipasupil/Getty Images Entertainment/Getty Images
All The Photos Khloé Kardashian Has Shared Of Baby True So Far Are Guaranteed To Make You Smile
It's clear that Khloé Kardashian loves being a mom. The Keeping Up with the Kardashians star only welcomed her first baby, True Thompson, last month, and she is already smitten with her little girl. At first, Kardashian kept fans wanting more by withholding photos of True — but now, there are plenty of adorable pics of the baby girl on social media. In fact, all the photos of True Thompson so far make it apparent that she and her mama are as close as can be.
Kardashian gave birth to True Thompson on Thursday, April 12 in Cleveland, Ohio, where she moved to live with her boyfriend, Tristan Thompson. Unfortunately, the days surrounding True's birth weren't quite as magical or serene as her mom had probably hoped they would be. A few days before True's delivery, the Daily Mail published footage that purported to show Thompson allegedly with another woman the week before their daughter was born. A day later, TMZ published additional footage of a man who appeared to be Thompson with other women from October. Romper's requests for comment from both Thompson and Kardashian's reps were not immediately returned.
Despite all that drama, Kardashian's instant love for True was palpable. A few days after welcoming True, Kardashian announced her arrival in a sweet Instagram post. "Our little girl, True Thompson, has completely stolen our hearts and we are overwhelmed with LOVE," Kardashian wrote on Instagram. "Such a blessing to welcome this angel into the family! Mommy and Daddy loooooove you True!"
Since then, Kardashian has shared a slew of adorable photos of her daughter on social media, making their mother-daughter bond even clearer. The very first photo Kardashian shared of her daughter featured only about two inches of her. It was a selfie of Kardashian wearing a flower-and-freckle filter, with just part of True's arm and what appears to be her ear on display.
The first full photo of True's face came on her 1-month birthday, May 12 — and it was technically a video. "💕Happy One Month True 💕," Kardashian captioned a video of her lil babe wearing the same flower-and-freckle filter on Instagram.
Kardashian shared another video of True with the same lens to Snapchat shortly afterwards. Enjoy the cameo from True's adorable hiccups. (The clip starts about 20 seconds into the following video.)
And then, finally, the first filter-free photo dropped. THOSE CHEEKS.
On Mother's Day, True was the subject of a filter once again. Kardashian caught her little angel dozing off, and a teddy bear Snapchat filter was promptly applied.
Earlier this week, Kardashian posted the first photo of herself and her daughter together. "Mommy's Little Love," Kardashian wrote alongside the shot on Instagram. In the picture, she is making a duck face, wearing a shirt that seems to say "Always believe," and rocking that flower-and-freckle filter once again. True is calmly resting in the corner of the frame, unaware of the nearly 4 million people who will "like" the photo being taken of her.
Earlier this week, Kardashian shared a photo to her Snapchat story on Memorial Day. Even though the shot only shows the back of True's head, it's clear Kardashian helped her baby go all out for the holiday, putting her in an adorable headband with a flower on it. (Hey, it's like that filter come to life!)
Also on Wednesday, Kardashian shared a throwback photo of True to her Instagram Story. "She was only 2 weeks in this pic," Kardashian captioned the shot, followed by a crying emoji. "Why is the time flying!! She will be 7 weeks tomorrow," she added, followed by more crying emoji. In the photo, Kardashian's "baby bunny" has a bunny-and-glasses filter on while she soundly sleeps.
Considering True is just shy of 7 weeks old, this is a fair amount of photos for her mom to have shared with the world. But if Khloé Kardashian decides to post a filter-free photo in honor of True's 2-month birthday next week, fans certainly won't complain.