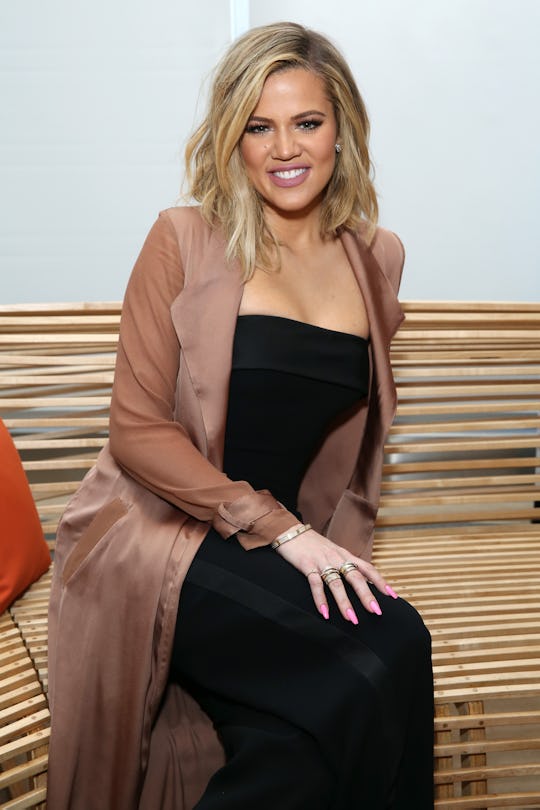 Cindy Ord/Getty Images Entertainment/Getty Images
Khloé Kardashian's Quotes On Motherhood So Far Show Just How Much She Loves Baby True
Khloé Kardashian has only been a mom for about a month now, but she has already shared her feelings regarding motherhood on multiple occasions. The celebrity mama gave birth to a baby named True last month, and it's clear that she is so in love with her little girl — and Khloe Kardashian's motherhood quotes so far show just that.
True Thompson was born on Thursday, April 12 in Cleveland, Ohio. In the days before Kardashian gave birth, her boyfriend Tristan Thompson found himself in the middle of not one but two infidelity scandals. Footage released by the Daily Mail and TMZ purported to show Thompson allegedly with other women the week before True was born. Romper's requests for comment from both Thompson and Kardashian's reps regarding the cheating allegations were not immediately returned.
No matter how Kardashian felt about the alleged scandal surrounding the week of her big delivery, it seems like she was able to put all that on the back burner so that she could focus on giving birth and caring for her daughter. Since then (as well as several times before becoming a mom), Kardashian has shared her thoughts on being a parent.
1. She Hopes True Will Be Best Friends With Her Cousins
If you're a KarJenner fan, you know that Khloé's sisters Kim Kardashian and Kylie Jenner both welcomed daughters of their own this year, just a few months before Khloé did. It's no surprise that Khloé is excited about the gals inevitably becoming besties. Upon announcing that she was expecting a girl back in March, she tweeted:
I am now so excited my daughter will have forever best friends with Chicago and Stormi!! God is great!!! Thank you Lord for our princess
2. True Immediately Captured Her Heart
Just a few days after True was born, Khloé shared a message celebrating her birth on Instagram. She wrote:
Our little girl, True Thompson, has completely stolen our hearts and we are overwhelmed with LOVE. Such a blessing to welcome this angel into the family! Mommy and Daddy loooooove you True!
3. She Is Loving Spending Time With Her Baby Girl
In a blog post about Mother's Day on Kardashian's website, People reported that she wrote:
I'm really enjoying spending quality time with True and loving just hibernating with her.
4. She Wanted To Be A Mom For So Long
In a January appearance on The Ellen DeGeneres Show, Kardashian disclosed that her pregnancy came at the perfect time. She said, according to People:
I've wanted to have a baby for so long it's just the perfect timing. God always has a plan and I just wanted to do it on my time and when I felt comfortable to do so.
5. She Was Nervous To Breastfeed
In an Instagram comment a few weeks before giving birth, Kardashian wrote:
Oh my gosh lol I'm nervous about breastfeeding. I hear crazy things but I'll fight through it and love it.
Though she has not yet updated fans on how it's going, her mom, Kris Jenner recently told DeGeneres that Kardashian is finding breastfeeding "tricky," according to People. "She's so excited about motherhood and trying to get the nursing thing down, which is a little tricky. She's trying, she's really trying," the momager told DeGeneres, as People reported.
6. She Hopes To Be A Fun Mom
In a 2015 interview with Refinery29, Kardashian made it clear that she planned to become a parent one day, adding that she hoped her fun aunt skills translate to her role as a mother. She told the outlet:
Everyone says that when you have kids, you become crazy (laughs), so I don't know what I'm going to be. But, I'm a really fun aunt, so I hope I'm going to be a fun mom! I like to have fun and be silly and not take myself too seriously with the kids, so I hope that will translate when I actually have my own.
And it seems like her aunt expertise has come in handy. In a blog post on Tuesday, Kardashian wrote that she's "always been patient with children" and that quality has come in handy when she's feeling exhausted with baby True.
7. Her Mom Superpowers Have Already Kicked In
In the same blog post on Tuesday, Kardashian expressed that she always seems to have enough energy to care for True, no matter how exhausted she is, as Cosmopolitan reported. She reportedly wrote:
I think what surprises me most is no matter how tired you are, you find this energy and patience for your child ... You know that babies are so helpless and they rely on you for everything. So something just takes over and you find the energy to care for this helpless precious baby.
There's no question that being a parent has been a long-awaited step for Khloé Kardashian, and it seems like motherhood is everything she hoped for so far.