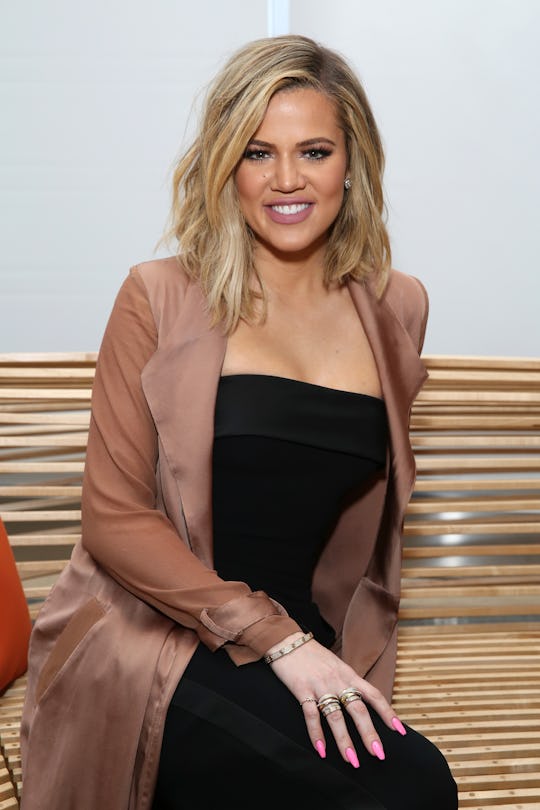 Cindy Ord/Getty Images Entertainment/Getty Images
Khloé K. Reveals How She's Feeling About Breastfeeding Her Daughter & It's So, So Relatable
Ever since announcing that she was expecting her first child this past December, Khloé Kardashian has been super open with fans about her pregnancy. The mom-to-be has shared tidbits about her growing bump, opened up about gender disappointment, and even asked her followers for pregnancy advice. And in the comments section of a recent Instagram post, Kardashian discussed an aspect of motherhood that she has mixed feelings. about. Khloe Kardashian is feeling "nervous" about breastfeeding her daughter — and that uneasiness is definitely something many other expectant mamas can relate to.
Monday morning, the reality star shared another photo on Instagram from her maternity shoot with photographer Sasha Samsonova. The photo features Kardashian and her boyfriend Tristan Thompson cradling her bump. In just five hours, the post garnered more than 17,000 comments. One fan jokingly commented on Kardashian's "pregnancy boobs," warning her that breastfeeding will change them.
"Enjoy the pregnancy boobs now... When you start breastfeeding... it's going to be major leakage and then you're not going to want to see those boobs anymore," the fan wrote, as per People. "All of us went through it lol... Breastfeeding is no joke but it is a beautiful thing and a great bonding experience with your baby."
Kardashian, who is estimated to be due sometime in late March or early April, responded to the fan's comment. According to People, she admitted that she is nervous about the process, replying:
Oh my gosh lol I'm nervous about breastfeeding. I hear crazy things but I'll fight through it and love it.
Another fan commented on the photo, advising Kardashian not to be afraid to breastfeed, as the process is different for everyone, writing:
It's good to be prepared for breastfeeding but don't be scared! Everyone told me horror stories and it turned out wonderful for me. It's different for everyone!
Kardashian was grateful for the positive encouragement, explaining that she has mostly heard bad things about breastfeeding. She responded:
Thank you for saying that! People only tell me bad things so far LOL I don't know why... Still confused me why people only share the bad stories.
Many expectant moms are scared of breastfeeding, and that's a totally normal feeling. Those who have been through the process often have the same advice — do whatever you feel is right, and what your body is telling you. There isn't only one way to feed a newborn, and as long as you are caring for your child, you've made the right decision.
Not to mention, every new mother has a different experience with breastfeeding, so it's understandable that Kardashian is worried that breastfeeding might not work for her. Some moms find breastfeeding to be the hardest part of parenting; some feel that breastfeeding interferes with their life too much; some babies have trouble latching, making the process more difficult for the mother; and others see exclusive breastfeeding as a privilege that not everyone has access to. On the flip side, many mothers absolutely love breastfeeding their child; others learn to love breastfeeding; plus, breastfeeding can benefit your baby in a number of ways; and breastfeeding can even have a positive impact on a mother's mental health.
Furthermore, Kardashian's Amazon baby registry reveals that she registered for both a breast pump and a formula dispenser. This suggests that she hopes to feed her daughter with a combination of breastfeeding and formula-feeding.
On top of having so many fans to give her parenting advice, her sisters Kim and Kourtney are both big advocates of breastfeeding, so if Kardashian is still feeling nervous about the process by the time her daughter is born, there's no doubt that her sisters will be there to calm her fears.
Check out Romper's new video series, Bearing The Motherload, where disagreeing parents from different sides of an issue sit down with a mediator and talk about how to support (and not judge) each other's parenting perspectives. New episodes air Mondays on Facebook.