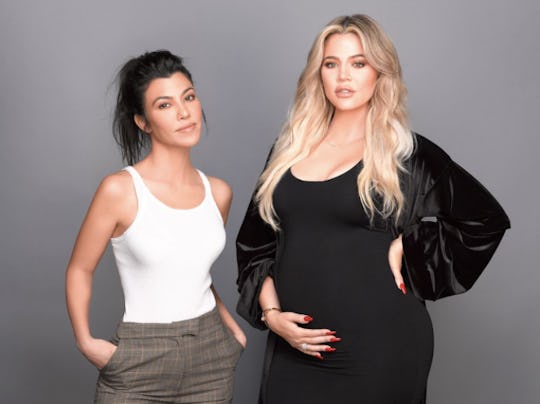 Courtesy of Amazon
Khloé Kardashian Has An Amazon Baby Registry, & What's On It Is Pretty Surprising
Khloé Kardashian's baby hasn't even been born yet, and she's already had a fancier party thrown in her honor than I've even been invited to. Over the weekend, the last remaining pregnant Kardashian had a baby shower for her first daughter, who is due in the coming weeks. Khloé and her sisters plastered Instagram with photos of the lavish event, which featured endless pink balloons, pink flowers, pink outfits, and even a pink neon sign reading "Baby Thompson." And now, she's sharing another aspect of her baby shower with fans: her Amazon gift registry. And honestly, Khloe Kardashian's baby registry is pretty down-to-earth, especially considering how over-the-top her shower was.
"I've been looking forward to becoming a mom for a long time and am so excited to be getting close to my daughter's birth," reads a message from Khloé on her Amazon registry. This will be Khloé's first baby, so she enlisted the help of her older sister Kourtney, mom of three. "With help from Kourtney and Amazon's Baby Registry, I was able to pick baby products perfect for my lifestyle," Khloé added.
Her registry is broken into 10 categories, the first being diapering. Khloé opted for diapering items including WaterWipes, Bambo Nature diapers, and a trendy diaper caddy. "I know I'll go through wipes like crazy on my baby's tushy, so I wanted to make sure I had the best possible for her sensitive skin!" Khloé wrote on her registry.
When it comes to bathtime, Khloé registered for the basics: an infant tub, a few gentle baby towels, a Mustela newborn arrival gift set which includes five baby skincare products, and, of course, a few bath toys. "I am so looking forward to the routine of winding my daughter down with a warm bath and getting cozy for bedtime," Khloé told Amazon.
For feeding, Khloé registered for both a breast pump and a formula dispenser, which suggests that she hopes to both breastfeed and formula feed her daughter. She also registered for a bottle warmer, two sterilizers, baby bottles, and the My Brest Friend nursing pillow, which Khloé's sister Kim loves.
Throughout the rest of the categories, which include health & safety, nursery, and out & about, are a few books, including Jimmy Fallon's Everything Is Mama and Twinkle, Twinkle, Little Star.
"Books have always been such a big part of our childhood memories, and now my memories with my own children," Khloé told Amazon. "You can never have too many books, I like starting them early with these fabric ones," she added, referring to Lamaze Peek-A-Boo Forest, which is on her registry.
There's also a section for around the house, which includes a vacuum, an Amazon Echo and, surprisingly, a book called Letters to My Son that prompts parents to write letters to their young sons that they can open when they're adults. Maybe Khloé registered for that one before she found out she was having a girl?
The mom-to-be also registered for a few things to make her transition into motherhood a bit easier, including Burt's Bees belly butter, Earth Mama nipple butter, Mama Mio tummy rub oil, and Earth mama perineal spray (because your vagina deserves a little love — no, not that kind — after you give birth).
There are only two baby outfits on the registry — because if Khloé is anything like her sister Kylie Jenner, she'll be filling her daughter's closet with designer duds. All in all, Khloé's baby registry is pretty low-key — but it doesn't mean I'm any less excited to pore over pictures of Baby Thompson's nursery.
Check out Romper's new video series, Bearing The Motherload, where disagreeing parents from different sides of an issue sit down with a mediator and talk about how to support (and not judge) each other's parenting perspectives. New episodes air Mondays on Facebook.