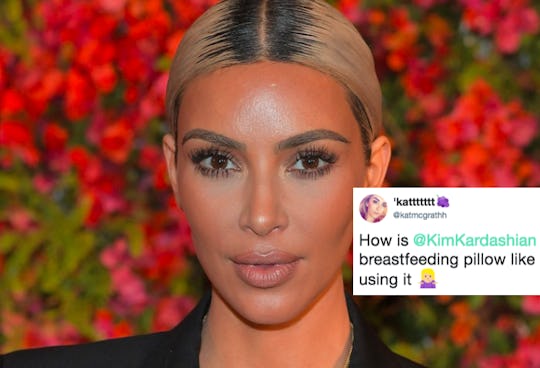 Charley Gallay/Getty Images Entertainment/Getty Images & @katmcgrathh/ Twitter
People Keep Asking Why Kim Kardashian Needs This Breastfeeding Product & C'mon Guys
Some of the best Kim Kardashian Snapchat and Instagram Stories are the ones in which she "unboxes" all the amazing things people send her or she buys and shows them off. Now that she's prepping for baby number three, she's also stocking up on baby supplies, like a cool sleep clock for the baby's room and a nursing pillow. But tons of people totally missed the point and insist on knowing why Kim Kardashian has a breastfeeding pillow since she's using a surrogate and won't be producing her own milk for the baby. And seriously, these people need to get a grip.
Kardashian showed off a few of her secret #momhacks, as she called them, such as the Serenity Star system she got. It's a combination digital clock, sound machine, and nightlight that also takes the room's temperature and keeps a feeding diary all in a cute little star shaped box. Then, she showed off the My Brest Friend nursing pillow.
"I literally get multiple of these, since you don't know what room you're going to feed in, you need them all over the house," she said. "It's everything," Kardashian gushed. On social media, people started to wonder what she would need a nursing pillow for, as if it were any of their darned business.
Also, for what's worth, a new mom can use nursing pillow for bottle feeding, too. The Kardashian and Jenner homes in particular should also probably have tons of baby pillows lying around since there are going to be a lot of infants around, all the time. If you need a cynical reason for why the company sent her a breastfeeding pillow — it's because she and her sister Kourtney are already celebrity endorsers for the product.
Kim did breastfeed North and Saint, so she might even get a wet nurse for the new baby if she's hardcore into the benefits of breast milk. (Although can you imagine the tweets judging her for that, too?) Though again, it's really none of our bees wax how Baby Number 3 gets fed. She's also pretty private about her breastfeeding experience. She said of her experience, according to the Daily Mail, "I know some people find breastfeeding such a private, personal experience, while other people are very open and even breastfeed in public."
Though she said that she would never do it in public. "Now that I'm a mom, I say whatever makes you comfortable goes. I still personally wouldn't breastfeed at a restaurant with a bunch of people I didn't know staring at me. I've seen this before and remember tweeting how shocked I was."
She added that being the mother of not one, but two kids, has changed her perspective a little bit. "Especially if you have a few kids and can't leave to breastfeed one kid in the bathroom while leaving the others at the table," she added. Every woman should be free to make a choice about how she feeds her child without getting hate. Already though, people are all up on Kardashian for this nursing pillow.
Really, There Are So Many Opinions
In reality, the breastfeeding pillow was likely simply a gift from the company that she can use in any capacity or let Khloé use when she's in town. It's not a big scandal. The wet nurse thing is probably very unlikely, since Kourtney once offered to feed Kim's kid for her back in 2013, so that each one could have a night out. Kim took a hard pass. (Though she did once use her sister's breast milk to help treat her psoriasis).
Given how close she is with her sisters, that definitely means no one is using that pillow to feed her new infant but her. And whether she uses it to prop her new infant up for a bottle or a place to put her salad while she watches TV is no one's business.
Check out Romper's new video series, Romper's Doula Diaries:
Watch full episodes of Romper's Doula Diaries on Facebook Watch.