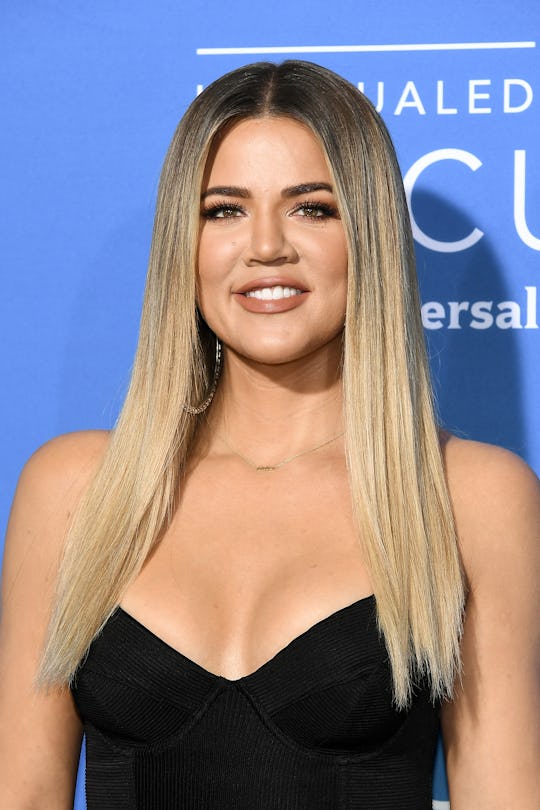 Dia Dipasupil/Getty Images Entertainment/Getty Images
Here's Everything Khloé Kardashian Has Revealed About Her Birth Plan So Far
As of now, Khloé Kardashian is the third and final KarJenner sister scheduled to welcome a baby this year. Since announcing that she was expecting this past December, she's been keeping her fans updated on various details of her pregnancy. Now, as her due date approaches, fans are likely wondering what Khloe Kardashian has shared about her birth plan. Her sister Kylie Jenner, who gave birth to her first baby in February, kept most details of her pregnancy and birth private. And their sister Kim Kardashian, who had her third baby in January via surrogacy, did not share much about her and her surrogate's birth plan. However, Khloé, who has been pretty open about her time expecting, has already shared a few details about her birth plan.
In an episode of Keeping Up with the Kardashians that aired last month, Khloé disclosed that she would be giving birth in Cleveland. Her boyfriend and father of her child, Tristan Thompson, is based in the Ohio city, as he plays basketball for the Cleveland Cavaliers.
"We're having the baby in Cleveland," Khloé told Kim on the show, as reported by Just Jared. "My doctor, she's flying to Cleveland to deliver the baby." That's one dedicated doc.
Khloé moved into Thompson's Cleveland home in December, as reported by People, shortly before the reality star publicly confirmed that she was pregnant. Cleveland is a very different city than the Kardashians' hometown of Calabasas, California, so Khloé must really like Thompson.
She further opened up about her Cleveland birth plan on Jimmy Kimmel Live! telling the talk show host who she hopes will be in the delivery room. (Side note: Khloé's use of the phrase "delivery room" likely implies that she'll be having a hospital birth as opposed to a home birth.)
When Kimmel joked that the basketball player could be busy at a game if she goes into labor, Khloé responded: "He has to be there." Fair enough.
Khloé's sisters and their mom Kris Jenner will be flying to Cleveland for the big day — however, Khloé isn't planning to let all of her sisters be in the delivery room, as she thinks it could get overwhelming, as she shared in the same interview. She told Kimmel that besides Tristan, her next priority for a delivery coach is her mom, followed by whoever would annoy her the least and be the calmest.
This is pretty different than what most of her sisters have done. In fact, Khloé was in the room with each of her sisters when they gave birth, and she was even in the room when Kris gave birth to the youngest KarJenner sister, Kylie — an experience she told Kimmel was "traumatizing" at the time.
And now, with Khloé's due date estimated to be sometime in late March or early April, she has officially migrated to Ohio to prepare to give birth.
Although she may not want all her sisters in the delivery room, she is taking one page out of Kim and Kourtney's afterbirth plan. Like her sisters, Khloé plans to eat her own placenta, according to Newsweek. There are endless ways to ingest your placenta — for example, Kim and Kourtney both had their placentas turned into placenta pills that they swallowed, as reported by Us Weekly. Kim is a big advocate of taking placenta pills, claiming that they helped her feel more energized, and that she didn't have any signs of postpartum depression. There isn't much science proving these benefits, but it's clear that Khloé thinks the practice is worth a try.
Many expecting parents choose to write out a birth plan (which lists out an expecting mother's delivery-day preferences) and then share it with their doctor and family members before they go into labor. Even though not every mother is able to follow their birth plan to a T, having everyone on the same page can certainly make the laborious day go a little more smoothly.
Considering how supportive the KarJenner family usually is, there's no doubt that everyone will do their best to honor Khloé's birth plan on her big day.
Check out Romper's new video series, Bearing The Motherload, where disagreeing parents from different sides of an issue sit down with a mediator and talk about how to support (and not judge) each other's parenting perspectives. New episodes air Mondays on Facebook.