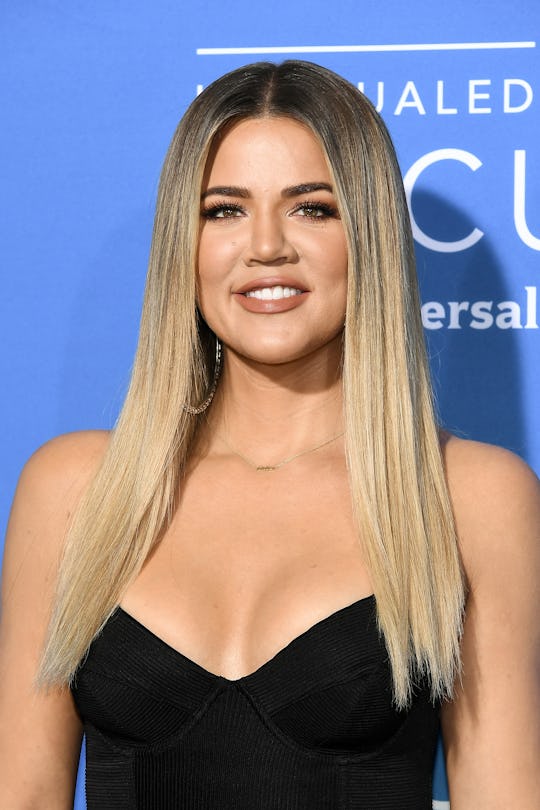 Dia Dipasupil/Getty Images Entertainment/Getty Images
These Khloé Kardashian Pregnancy Updates Will Tide You Over Until She Welcomes Her Baby Girl
At one point in history, not one, not two, but three members of the Kardashian-Jenner family were all expecting babies at the same time. Kim Kardashian and husband Kanye West welcomed their third child via surrogate back in January — a baby girl named Chicago (or "Chi" for short) and Kylie Jenner gave birth to her first child — a daughter named Stormi — on Feb. 1. Now, Khloé Kardashian is moments away from welcoming her first child and fans can't wait for the big day. In the meantime, though, these Khloe Kardashian pregnancy updates will certainly tide you over until she gives birth and fills your social media feeds with baby posts. And fortunately, the 33-year-old expectant mom has been very generous with such updates and has shared much of her pregnancy journey with her fans.
Kardashian's due date is around the corner, likely sometime at the end of March or early April. So it's only a matter of time before the day that she'll hopefully bless the world with a picture of her sweet baby girl, too. But, that day has yet to come and with its absence, fans of Kardashian are growing weary with anticipation.
In the midst of all this waiting, it's important to remember that the Kardashians are known for surprising fans and the general public with shocking announcements. So, really, she might have her baby and then wait a few days before even announcing it, kind of like her sister Kylie Jenner did. And it'll likely be a grand reveal as well.
But, because fans of Kardashian and her boyfriend, Tristan Thompson, are so overwhelmed with excitement about what's to come, looking back at Kardashian's entire pregnancy journey, with all of its many updates, is like taking a sweet walk down memory lane. So, what's happened since Kardashian's pregnancy was first revealed back in December?
Kardashian's pregnancy wasn't always a known fact. If you recall, back in September 2017, media outlets began reporting that she was pregnant, just days after Jenner's pregnancy was revealed. But no one in the famous family commented or confirmed those, at the time, rumors. In fact, Jenner never actually confirmed that she was pregnant when she was; she gave birth secretly and then confirmed it all on Super Bowl Sunday.
Kardashian did things differently and announced her pregnancy on Dec. 20, 2017. While her pregnancy has been much more of an open book than her sister's, in an Instagram post announcing the news, she explained that she had reasons for holding out on sharing it all with fans right away.
Alongside a stunning photo of her pregnancy bump with Thomspon's hands wrapped around her, Kardashian wrote, "I know we've been keeping this quiet but we wanted to enjoy this between our family and close friends as long as we could privately. To enjoy our first precious moments just us."
After that, the updates just kept coming and coming. On Jan. 2, 2018, Kardashian once again took to Instagram to give fans an update about when she was due. Posting an adorable photo of herself with her hand on her bump as she looked to the side, Kardashian wrote, "Officially 6 months." Based on that, fans could calculate that her due date was probably around the end of March.
Then, Kardashian had to go and make her fans even more excited when she tweeted about feeling her little one start to kick. On Jan. 27, she simply wrote, "kick kick kick" on her page, adding, "exciting" along with the prayer hands emoji.
She also revealed on her blog that she's "given into" her pregnancy cravings, according to People, and shared with fans that they were kind of all over the place, something that any mom can relate to. "I feel like I need Spaghetti and I think I want a side of strawberries and whip cream LOL is this normal," she tweeted last month.
Not too long ago, Kardashian also revealed that she was going to have a girl, on the season finale of Keeping Up With The Kardashians. In the episode, Kardashian appeared to be in disbelief that she was having a girl, because she had been so convinced she was going to have a boy.
"When you have your mind made up as to what you're having… everyone told me you're going to feel what you're having and you'll just kind of know," she said during the episode, according to People. "And then when you find out it's the complete opposite, it's just a shock."
Now, most recently, Kardashian has been thrown a fabulous baby shower. Over the weekend, Kardashian shared a handful of photos from a pink-flower-and-balloon-filled room to help her celebrate her upcoming bundle of joy.
And in addition to having a fabulous baby shower, Kardashian also seems to have enlisted the help of some friends when it came to deciding on a name for her baby girl. According to HollywoodLife.com, Kardashian had a table with markers and a sign that read, "Help Khloe find a name for Baby Thompson," at her shower. So clearly, picking a baby name is a challenge for celebrities, too.
Also recently revealed was that Kardashian's baby registry was on Amazon, like any other non-famous person's baby registry would be. Things like a breast pump and baby wipes unsurprisingly made the list.
But after her baby shower, Kardashian has remained relatively chill, other than, ya know, launching a new maternity collection for her denim brand, Good American. Clearly, the mom-to-be is full of energy. However, fans are still awaiting the day when Kardashian will give birth.
So now, the world awaits Kardashian's birth announcement, which is sure to be just as fabulous and adorable as all of her pregnancy updates thus far.
Check out Romper's new video series, Bearing The Motherload, where disagreeing parents from different sides of an issue sit down with a mediator and talk about how to support (and not judge) each other's parenting perspectives. New episodes air Mondays on Facebook.