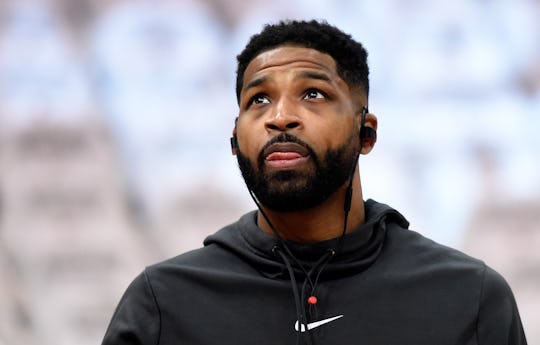 Jason Miller/Getty Images Sport/Getty Images
Here's Everything Tristan Thompson Has Said About Fatherhood Since Baby True Was Born
In the last year and a half, NBA player Tristan Thompson became a dad to two children — most notably, to True Thompson, who he shares with his girlfriend Khloé Kardashian. Since then, the 27-year-old new dad has commented on fatherhood on several occasions. And Tristan Thompson's fatherhood quotes since True's birth show that despite all the drama preceding her birth, he loves being a dad.
Need a refresher on that drama? On Thursday, April 12, Kardashian gave birth to True Thompson in Cleveland, Ohio. She had moved there a few weeks prior to giving birth to live with Thompson, who plays for the Cleveland Cavaliers. However, just a few days before the reality star delivered True, the Daily Mail published footage purporting to show Thompson with another woman, allegedly filmed just days beforehand. Soon after, TMZ published additional footage of a man who appeared to be Thompson allegedly getting cozy with several other women at a hookah bar, allegedly filmed in October. (Romper's requests for comment from both Thompson and Kardashian's reps regarding the allegations of infidelity were not returned.)
Thompson welcomed his first baby, a boy named Prince, in December 2016, with ex-girlfriend, Jordan Craig, according to Entertainment Tonight. Thompson and Kardashian were already dating by the time Craig gave birth to Prince.
All that being said, it seems as if Thompson is making an effort to be a good dad to his kids. (Or at least, Kardashian's public relations team is making it seem that way.) Here are four things Thompson has said about fatherhood since welcoming True.
1. On Working Hard To Support His Kids Financially
Thompson made his first public comment regarding True after her birth on April 12, as Us Weekly reported. In a post-game interview, a reporter asked Thompson how he managed to stay down during Toronto Raptors shooting guard's DeMar DeRozan's pump fakes. The Cavaliers' coach, Tyronn Lue, had previously announced his plan to fine players $100 each time they fall for one of DeRozan's pump fakes, according to Slam Online. Thompson jokingly responded:
Well we have to, because if we jump and he gets a foul, it's $100, so I'm not trying to give up that money ... I just had kids, so I'm trying to save up for their college tuitions.
2. On The Differences In Raising A Boy And A Girl
Just five months into being a father, Thompson's fragile masculinity was already showing! During an interview on the Road Trippin podcast in May, Thomspon opened up about the differences he's noticed in himself when Prince and True cry, Complex reported. Thompson said:
I think with a girl, you're just so much more emotionally like...with a boy, it's just like, "Hey man, you'll be all right man. Stop crying." ... But, it's like, "True, it's gonna be okay. You know, we're right here. Daddy's here to feed you. It's me! Look, yeah!" It's way different, but it's fun, though. It changes you.
3. On Expanding His Family In The Future
The Road Trippin podcast hosts also asked Thompson if he hoped to welcome more children — Thompson seemed pretty confident more kids were in his future, according to PopSugar. He responded:
I'm gonna keep going ... I've got a couple more. I got a couple more left.
4. On How Much He Loves His Kids
On Father's Day, Thompson broke his Instagram streak of basketball photos with a picture honoring his children. "My Prince🤴and Princess 👸. I love you guys so much!!!" Thompson captioned a closeup shot of two diamond-encrusted gold necklaces that read True and Prince.
Aaaand that's pretty much everything Thompson has said publicly about fatherhood since True was born — which makes sense, given the alleged drama surrounding her birth. Luckily, fans have Khloé Kardashian's social media accounts to keep them updated on all things True.