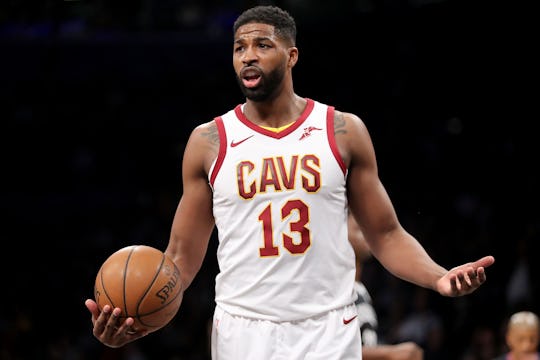 Abbie Parr/Getty Images Sport/Getty Images
Tristan Thompson Made His First Comment On Fatherhood Since Welcoming His Daughter True
Days before Khloé Kardashian gave birth, her boyfriend Tristan Thompson found himself in the midst of multiple cheating scandals. Kardashian has not yet commented on the rumors circulating right now, though she has talked about her baby girl plenty of times. Thompson, for his part, has been mostly silent with the media since his daughter's birth and in the wake of the scandals — until now. According to Us Weekly, Tristan Thompson just made his first comment on fatherhood since True was born on April 12, and it's clear that he's trying to put the scandals behind him.
The comment came in a post-game interview, as reported by Us Weekly. Thompson, 27, is a center for the Cleveland Cavaliers, hence Kardashian's relocation to the midwestern city. Recently, the Cavaliers' coach Tyronn Lue announced he'd be fining his players $100 every time they fall for a pump fake from Toronto Raptors shooting guard's DeMar DeRozan, as explained by Us Weekly. (For the uninitiated, a pump fake is when a player "fakes" out their opponents by pretending to throw the ball in one direction before actually throwing it in another direction.)
When a reporter asked Thompson how he managed to stay down so well during DeRozan's pump fakes, Thompson took the opportunity to comment on his two babies, as reported by Us Weekly via Cavs.com "Well we have to, because if we jump and he gets a foul, it's $100, so I'm not trying to give up that money," Thompson said with a laugh following the Cavaliers-Raptors game in Toronto on Tuesday. "I just had kids, so I'm trying to save up for their college tuitions." (The Cavaliers won the game 113 to 112.)
If you noticed that Thompson referred to his "kids" in the above quote, as opposed to just True, it's because he also welcomed another baby pretty recently. On Dec. 12, 2016, Thompson's ex-girlfriend Jordan Craig gave birth to a boy named Prince Oliver, according to Us Weekly. Craig and Thompson were reportedly already broken up by the time Prince was born, and he was already dating Kardashian.
It's clear that having to pay a $100 fine every now and then wouldn't make much of a dent in Thompson's children's college tuition funds, especially considering his multi-million dollar net worth. Perhaps he made the comment to subtly let those watching know that he is involved in his children's lives, or perhaps he was simply trying to the lighten the mood. (After all, a group of Raptors fans reportedly chanted "Khloé!" over and over in an attempt to distract Thompson during Tuesday's game, as noted by E! Online.)
Thompson and Kardashian welcomed True earlier this month, just two days after his alleged cheating scandals broke. On April 10, TMZ shared a video that purported to show Thompson allegedly with two women in a D.C. hookah lounge in October. That same day, footage published by the Daily Mail, again, purported to show Thompson allegedly kissing a woman the previous Saturday night at a club in New York City. There was also footage of what claimed to be the two allegedly going into a hotel together, and then leaving a couple hours after, as reported by the Daily Mail. Thompson's and Kardashian's reps did not immediately respond to Romper's request for comment regarding the cheating allegations.
Neither Kardashian nor Thompson has publicly commented on the footage, but Kardashian has more or less made it clear that she's doing her best to make things as amicable as possible for their daughter. Not only was he reportedly in the delivery room when she gave birth to True, but Kardashian even gave him a shoutout when announcing True's birth. Alongside a photo of pink decorations she Instagrammed four days after giving birth, Kardashian wrote:
Our little girl, True Thompson, has completely stolen our hearts and we are overwhelmed with LOVE. Such a blessing to welcome this angel into the family! Mommy and Daddy loooooove you True!
It's good to know that despite all the scandals Thompson plans to continue supporting True — not that Khloé Kardashian needs his help.
Check out Romper's new video series, Bearing The Motherload, where disagreeing parents from different sides of an issue sit down with a mediator and talk about how to support (and not judge) each other's parenting perspectives. New episodes air Mondays on Facebook.