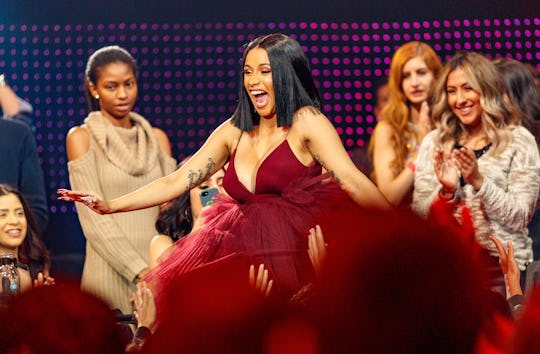 Christopher Polk/Getty Images Entertainment/Getty Images
Here's Everything We Know About Cardi B's Pregnancy So Far
After months of speculation, Cardi B finally revealed that she is in fact pregnant this past weekend. And even though it's only been a week since she confirmed the news, now seems like the right time to review everything we know about Cardi B's pregnancy so far.
This will be the first child for Cardi B, 25 and the fourth for her fiancé, Offset, 26, who is in the hip hop trio Migos. Cardi B revealed that she was expecting during her performance on Saturday Night Live over the weekend. While singing her new song "Be Careful," the camera slowly zoomed out to reveal a distinct bump, to the cheers of audience members. Fans have been so excited for Cardi since she announced her pregnancy last week, though I can't say they were surprised, as rumors have been swirling about her pregnancy for several months now. All that being said, let's go back to the beginning...
At the 2018 Grammys, which were on Jan. 28, host Giuliana Rancic asked the "Bodak Yellow" singer about rumors in general. "Somebody always saying that I'm pregnant every two weeks," Cardi told Rancic, as per E! News. "So it's just like, if y'all wanna know, ask me, I'll tell you."
Then about a week later, in early February, rumors began to spread that Cardi B was pregnant, thanks to gossipy fans who commented on one of Cardi's Instagram post. "I see that baby bump!" one user reportedly wrote at the time. "You lookin pregnant girl," wrote another.
Cardi, being her usual candid, hilarious self, shut down the speculation by commenting back. "No b*tch I'm just getting fat. Let me fat in peace," she wrote. It's definitely not OK for people to judge or comment on another woman's body, and Cardi's clap back was pretty dang perfect.
As fans know by now, her clapback was actually not true, as she was most likely already pregnant at that time. However, Cardi deserved to come out about her pregnancy on her own time, and if posting that comment was the only way to quell the rumors until she was ready to go public, then that's totally understandable.
Cardi has yet to reveal her due date, but of course, there are theories. Dr. Sherry A. Ross, an OB-GYN, calculated Cardi's due date for the website Hollywood Life. She estimates that Cardi will give birth around July 30, give or take two weeks. That would mean Cardi is currently around six months pregnant.
As mentioned above, Cardi B confirmed that she was expecting during her performance on Saturday Night Live. Even though she didn't directly tell the audience she was pregnant during the performance, her super distinct bump was enough for fans.
Editor's Note: The YouTube video has since been deleted.
Following the performance, both Cardi and Offset further confirmed the news on social media. "Cardi and I look forward to our next chapter together," Offset captioned an adorable shot of the couple on Twitter minutes after the performance.
Cardi also shared a sweet message on Instagram, dedicated to both her followers and to Rihanna, who had posted a congratulatory message. She wrote:
The love I'm receiving is overwhelming😩! I can't thank you enough for always finding the time to share your support!! Thank you a million times @badgalriri
Editor's Note: The Instagram post has since been deleted.
And in a fan video Cardi B backstage after the SNL performance, she cries out in relief, "I'm finally free!" Keeping a pregnancy secret, especially while so many rumors are flying, must have been stressful (though Kylie Jenner would disagree), and Cardi seems really happy to have everything out in the open.
Lastly, in a radio interview with Hot 97 earlier this week, Cardi B may have accidentally revealed her baby's sex. When a DJ asked her if she concealed her bump during a recent event at a strip club, Cardi B started to say "Yeah, she was..." before stopping herself and "trailing off," according to Us Weekly.
Whether Cardi knows her baby's sex, she's clearly not ready to share that with the world, and that's totally OK. Hey, give her a break, she only just announced her pregnancy last week!