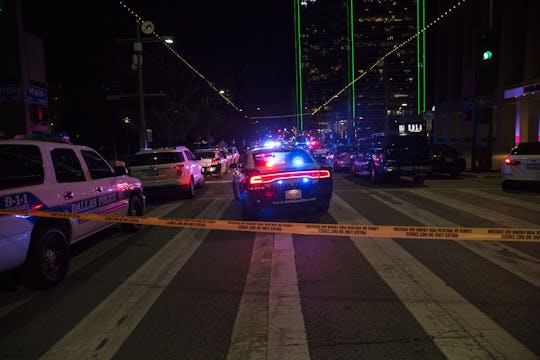 LAURA BUCKMAN/AFP/Getty Images
Everything We Know About The Dallas Shooting So Far
Update: Authorities have identified the deceased suspect as Micah Zavier Johnson, 25, an Army reservist with no criminal history or ties to terror groups.
A peaceful protest turned into a tragedy when shots were fired in downtown Dallas, Texas Thursday evening. As medical professionals rush to tend to the victims and police officers hurry to find the persons responsible, the world is left wondering what happened. Though some details about the late-night shooting still remain a mystery, here is everything we know about the Dallas shooting so far.
What Happened
According to CNN, the shooting took place in downtown Dallas during a protest against police violence. Protestors were walking to support the lost lives of Alton Sterling and Philando Castile, two black men who were unjustly shot and killed by police officers in Louisiana and Minnesota, respectively. NBC News reported that two snipers first fired shots from an "elevated position" around 9 p.m. CT.
Who Are The Victims
USA Today reported that 12 police officers were shot Thursday night — five dead and seven injured — making it the deadliest single attack against law enforcement since the September 11 attacks. Only one of the deceased officers' names have been released — Brent Thomspon, a 43-year-old officer and the first to be killed in the line of duty in 27 years. Officials also released the names of other injured police officers: Misty McBride, Omar Cannon, and Jesus Retana.
In addition to the police officers, the Associated Press noted that two civilians were shot during the Thursday night attacks. One of whom, Shetamia Taylor, was injured protecting her two children from the shots.
Who Are The Suspects
Though the names of the suspects have yet to be revealed, Dallas mayor Mike Rawlings told NBC News that he believes everyone involved has been place din custody.
"We're hopeful that we have got everybody, but we don't know that for sure," Rawlings said in a statement, adding that the three suspect sin custody have been "being pretty tight-lipped" about other shooters and their motives for the attacks.
Additionally, Dallas Police Chief David Brown gave insight to the suspects initial location, saying two were perched atop a building.
"We believe that these suspects were positioning themselves in a way to triangulate on these officers from two different perches in garages in the downtown area, and planned to injure and kill as many law enforcement officers as they could," he said.
There was also a fourth suspect, however, who was killed during a three hour standoff with the local SWAT team. According to The Washington Post, officers involved in the standoff said the shooter said he "was upset about the recent police shootings" and "wanted to kill white people, especially white officers."
President Obama Deemed This A "Despicable" Act
President Obama spoke about the Dallas shooting while attending the NATO Summit in Poland Thursday. In his statement, Obama said the shooting was a "vicious, calculated, despicable attack," and said there is "no possible justification" for the attacks.
Obama also took a moment to address the issues of racial discrimination and gun control saying:
Even as yesterday I spoke about our need to be concerned as all Americans about racial discrimination in our criminal justice system. I also said our police have an extremely difficult job and the vast majority do their job in outstanding fashion.
We also know when people are armed with powerful weapons, unfortunately it makes attacks like these more deadly and more tragic. And in the days ahead we are going to have to consider those realities as well.
This Is An Isolated Incident
It is important to remember that the event at the Dallas protest, which were peaceful up until shots were fired towards the end, was isolated. Around the country, there were many other peaceful protests against police violence that did not result in injury or death.
Whatever the motives of the Dallas shooters, it is important to remember that violence does not justify more violence. Rather, we should use our voices t evoke change in a time where it is most needed.
This story is developing. . .