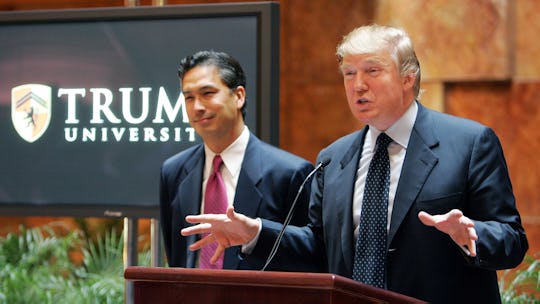 Mario Tama/Getty Images News/Getty Images
Everything You Need To Know About The Trump University Lawsuit
While President-elect Donald Trump seems to be getting himself in trouble, no matter what action he makes — but he is a little less out of trouble today. On Friday, Trump settled his remaining lawsuits involving Trump University. But it wasn't an easy process to get to. Luckily, everything you need to know about the Trump University lawsuit is pretty simple — Trump University was never a university to begin with and some students allegedly lost a lot of money from it.
So, here's what went down in court on Friday. According to The New York Times, Trump finally agreed to reach a $25 million settlement in the three lawsuits pertaining to Trump University — despite saying he wouldn't settle in the past. According to The New York Times, these lawsuits have been in the process for years, with allegations made by former students of Trump University claiming fraud. This settlement comes on the heels of Trump attorneys asking for the Trump University trial to be pushed back until after Trump was inaugurated. His attorneys wanted the trial to be moved back because they did not want Trump to be "diverted" from the work in "preparing for presidency," according to Politico. By settling, Trump is no longer going to be diverted from such a thing and has one less thing to worry about. But the lawsuits have an interesting story to be told. As people read headlines from Friday they might be wondering why there were lawsuits in the first place. Here's some background and insight into the settlement.
The "University"
While I would never trust Trump to teach me anything, it is important to remember that Trump was a popular public figure at one point — before he became a brutally honest politician. Because Trump was so popular, his name sold products — and he sold everything. From water to steaks to even "university" classes. According to The New York Times, Trump University operated from 2004 to 2010 which included free seminars mainly about "investing and learning" Trump's "secrets." But according to The New York Times, the classes could then cost students up to $35,000. According to New York Daily News, Trump University was never an accredited university to begin with. In 2010, according to New York Daily News, the New York Education Department criticized Trump for using the term and demanded Trump stop using the word university with his classes. According to New York Daily News, at the time the Trump University website described it as an "Ivy League quality curriculum."
According to Fortune, however, the problems began when Trump University began doing "live seminars" across the nation urging people to buy a three-day seminar for more than $1,000 where they would learn from "amazing instructors" that were "hand picked" by Trump. According to CNN, in depositions, Trump claimed he had not met several of the "university's" top instructors. The more seminars and classes these people bought into, the more money they spent — even if they were buying into false promises.
The Lawsuit(s)
According to Fortune, the first class action lawsuit against Trump University claiming "fraud" was filed in 2010 — which Trump then tried to fight against (he ultimately failed). Then in 2011, Trump University was sued again. But Trump was not going down without a fight — according to Fortune, Trump filed multiple counterclaims against these suits and hired multiple high powered attorneys to help him along the way. This means that these lawsuits have been stuck in court for six years because the process in going to trial has been delayed for this long.
According to The Atlantic, Trump consistently denied "any wrongdoing" with Trump University. Despite that, he didn't necessarily keep quiet about the lawsuits when he was on the campaign trail. In July, Judge Gonzalo Curiel made the decision to finally let the case go forward and go to trial — with a projected start date of Nov. 28. If the case went to trial, according to NBC News, Trump might have had to testify — even if he was declared president of the United States.
The Settlement
It appears that Trump spoke too soon — because less than a year after that tweet, Trump did actually settle the case. According to Reuters, just one week before Trump settled in the lawsuit, Judge Curiel urged both parties to settle the case and avoid going to trial altogether. "It would be wise for the plaintiffs, for the defendants, to look closely at trying to resolve this case given all else thats involved," Curiel said. Just five days later, Trump reached a settlement just 10 days before one of the cases was set to go to trial. New York attorney general Eric T. Schneiderman released a statement shortly after, according to The New York Times:
I am pleased that under the terms of this settlement, every victim will receive restitution and that Donald Trump will pay up to $1 million in penalties to the State of New York for violating state education laws. The victims of Trump University have waited years for today's result — and I am pleased that their patience — and persistence — will be rewarded by this $25 million settlement.
However, the settlement might be a little lower than what the victims wanted. According to Bloomberg, Schneiderman claimed earlier that "students lost as must as $40 million and that Trump made as much as $5 million from the school." However, the $25 million figure was reached by attorneys when the cases went to settlement.
It has been a long journey to reach this settlement and have these three trials come to a conclusion.