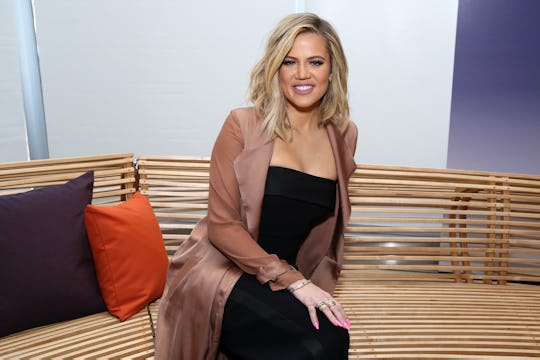 Cindy Ord/Getty Images Entertainment/Getty Images
Fan Theories About Khloé Kardashian's Baby Prove The Speculation Is Getting Out Of Hand
Following months of excitement and speculation, Khloé Kardashian gave birth to her daughter in Cleveland, Ohio, on Thursday. The development is absolutely thrilling for Keeping Up With The Kardashians fans, to say the least, and people are chomping at the bit to find out the details about the Kardashian's new addition. And while Kardashian has yet to give any details about her daughter besides her name (welcome to the world, True Thompson), there are plenty conspiracy theories about the baby out there in the universe. From the little one's potential custody arrangements to speculation about how she was born, here are all the fan theories about Khloé Kardashian's baby. As you'll soon be able to tell, the drama is getting a bit out of hand.
Following Kardashian's confirmation of her pregnancy in December, fans received plenty of updates on her baby. In fact, Kardashian basically made it her mission to keep her supporters in the loop, and no pregnancy topic was seemingly off limits. So, it's not too surprising that people are little upset that Kardashian has seemingly disappeared from the spotlight post-delivery with the exception of her Instagram post on Monday. And it's even more predictable that KUWTK loyalists are coming up with theories about Kardashian's baby — despite how ridiculous some of them might be — to compensate for the silence. That being said, here are all the fan theories about Kardashian's baby thus far.
Kardashian Is Taking Her Baby To L.A. ASAP
Just a few days before Kardashian gave birth, cheating allegations against NBA Cavaliers player boyfriend, Tristan Thompson, surfaced online. One of the rumors involves photos obtained by the Daily Mail which allegedly shows Thompson kissing another woman at a nightclub. Although it's not clear if the person in the photos is Thompson, it's obvious that Kardashian's fan base is rocked by these allegations. Romper's requests for comment from both Thompson and Kardashian's teams regarding the cheating allegations were not immediately returned.
And given Kardashian's four-day period of silence following the scandal, some people believe she is plotting to leave Cleveland with her daughter ASAP.
As it turns out, there might be some truth to this particular theory. Kardashian supposedly bought $4K worth of travel items for her daughter on a recent shopping spree, according to TMZ. Obviously, the implication here is that Kardashian wants to make sure her baby is well-prepared to travel from Cleveland to Los Angeles in the coming days.
On the other hand, however, Kardashian's baby name announcement does seem to suggest that she and Thompson are still together. Hmm.
Kris Jenner Orchestrated The Pre-Delivery Drama
One of the more out there theories about Kardashian's baby is that the drama surrounding her delivery was concocted by momager Kris Jenner. Apparently, people find the timing of the Thompson cheating allegations a bit suspicious considering the news leaked just days before True made her grand entrance into the world.
Of course, people aren't suggesting that Jenner is somehow framing Thompson or that she brought these cheating allegations to fruition — the theory is that she planned the *timing* of the news. One person suggested, according to Twitter:
MAYBE I'm thinking too much into this but the more I think about it the more khloe getting cheated on seems like a plan from Kris Jenner to get people talking about her n all sympathetic n hyping her up right as her baby's born.
Although it's no secret that Jenner is a PR master, it seems a bit unlikely that she'd potentially put her daughter's health in jeopardy to get some extra "sympathy." It all seems a bit farfetched.
Kardashian Used A Surrogate
Shortly after Kardashian gave birth, a blind item seemingly about Kardashian surfaced on the gossip website BlindGossip.com. A blind item, for those who aren't in the know, is a secret about a celebrity or public figure that people can uncover via an assortment of clues.
Part of the blind item supposedly about Kardashain reads, according to Blind Gossip:
She already knew that he was cheating on her, she never had any intention of living anywhere except Los Angeles, the pregnancy is a sham, and the last minute headlines were released to provide maximum dramatic impact.
Naturally, people took the "sham" part of the blind to mean that Kardashian used a surrogate during her pregnancy. "Yup totally obvious! Khloe is not preggo, adopted the child or surrogate," one commenter penned. "This tristan cheating drama lets him out of the kardashian Klaws while still letting khloe have her baby with everyone assuming she carried it with her BF."
Another person chimed in: "I knew it was all fake!!"
Yikes. These comments seem pretty harsh when you consider Kardashian struggled with fertility issues prior to getting pregnant with True.
The Baby's Name Is A Dig At Thompson
Following Kardashian's announcement on Monday that she named her baby True Thompson, many fans pointed out that the moniker might be a jab at Thompson. Essentially, some people think the name "True" is confirming that the cheating allegations about Thompson are legit.
"Did she name her baby True Thompson because rumors about Tristan cheating were.....true?" one fan wondered.
Hmm... would Kardashian really reference the cheating scandal with her daughter's name? It seems like it would be easier for Kardashian to simply issue an statement verifying the claims.
Kardashian Could Get Full Custody Of Her Baby
On Monday, a theory surfaced suggesting that Kardashian might have sole custody thanks to a law in Ohio. The law states, according to Elle UK:
An unmarried female who gives birth to a child is the sole residential parent and legal custodian of the child until a court of competent jurisdiction issues an order designating another person as the residential parent and legal custodian.
Well, since Kardashian *isn't* married, it's possible she'll maintain sole custody if Thompson doesn't file for visitation or parenting rights. Unsurprisingly, fans are hoping this theory holds water.
"I'm not saying that kris jenner should pull up the receipts and destroy his already failing career," one fan suggested. But she really should and make sure that khloe gets custody of that baby."
Check out Romper's new video series, Bearing The Motherload, where disagreeing parents from different sides of an issue sit down with a mediator and talk about how to support (and not judge) each other's parenting perspectives. New episodes air Mondays on Facebook.