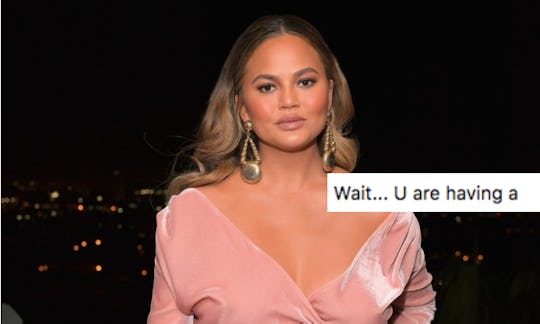 Charley Gallay/Getty Images Entertainment/Getty Images
Fans Are *Convinced* Chrissy Teigen Revealed Baby No. 2's Sex In This New Photo
Sometimes I think that we don't deserve just how wonderful Chrissy Teigen is, if only because she seems like she'd be so fun to hang out with. And she's definitely an amazing mom, which is why it's so great that she's pregnant again. Although she's been somewhat private since announcing her second child, fans think Chrissy Teigen revealed her baby's sex with the latest photo she posted to Instagram on Saturday night. It's admittedly a bit of a stretch, but fans believe that she might be having another girl, which would literally make my heart burst. Luna is all sorts of cute and watching her grow up with a sister, complete with Teigen-styled outfits, would be way too much fun.
The Lip Sync Battle star and pro-Twitter user posted a picture of herself in a gorgeous robe, lounging on a couch, looking glam AF. She captioned the picture, "Girls weekend - Quaker Hill, NY - 2018." Since husband John Legend and Luna posted a selfie aboard a plane to the Sundance Film Festival and Teigen didn't share who she's in New York with, commenters on the photo think she's referring to the baby in her stomach, which would be a weird way to announce the sex, but they do kind of have a point.
One fan wrote, "another baby girl?" Another asked, "What are we having this time; another girl?" and "So, it's a girl?" Yet another wrote, "She is confirming it is a girl."
Others all said basically the same thing: "Is it another girl?!" Judging by the amount of pink hearts, the world is essentially in agreement that Teigen is having another daughter.
But don't expect any confirmation anytime soon. Last week, Teigen told Extra that she wasn't planning on revealing her baby's sex just yet. The couple does know, though. Teigen said, "I'm not gonna say. I want to say so bad." She added that it was Legend's idea to keep it a secret since they did IVF again, he wanted to have something "just for [them]." "So I'm giving him that," Teigen explained, according to Extra.
Teigen announced her pregnancy on Instagram in November with the most adorable video. In it, she asks 19-month-old Luna what's in her tummy. Luna points and says, "bee-bee," which literally, will make your heart burst with cuteness. Teigen captioned it, "it's John's!" Legend actually responded to that, writing that Maury would have "the final word," referring to the famous talk show host who notoriously did paternity reveals.
Seriously, they are the best family ever.
Back in 2016, Teigen conceived Luna with IVF, according to People, and revealed that she specifically chose to have a baby girl. She told People, "Not only am I having a girl, but I picked the girl from her little embryo. I picked her and was like, 'Let's put in the girl.'" She added that she wanted her husband to "have that bond." And they totally do.
Legend told Entertainment Tonight that being Luna's dad has changed him for the better. He said, "It just takes over your life when you have a child…I spent a lot of time at home with her for the first three months and with my wife, you know, it just humbles you."
He added, "I think everyone struggles with being a new parent, everyone's trying to figure it out and I think it's a humbling process." But that doesn't mean they weren't always planning on having more kids. Teigen told Us Weekly:
We want a lot of kids. When it happens, it happens. For us, it's hard because he's on the road so much and I'm working. People think it happens so easily, but the stars really have to align to have a baby, and it is a little miracle. So when it happens — we will be so happy.
She hasn't yet confirmed the sex of her second baby, or if she and John decided to have another girl. It's possible that they want a boy, too. Aside from Teigen previously revealing on Twitter that the remaining embryo they had left from IVF was male, Legend has also been focused on raising awareness about toxic masculinity and raising boys outside the confines of gender roles. But they're already doing the same for baby Luna. Legend told People:
I don't like the idea of treating our girls differently than we treat our boys, saying "Boys, go out there and have as much sex as you want, do whatever you want" and then our girls have to be locked in a convent. I don't believe in that. I just want to equip her to make the best decisions.
No matter what the sex of their second baby is, Teigen and Legend are great parents and any little baby will be lucky to be in the family. Actually, I sort of wish they'd adopt me while they're at it.
Check out Romper's new video series, Romper's Doula Diaries:
Watch full episodes of Romper's Doula Diaries on Facebook Watch.