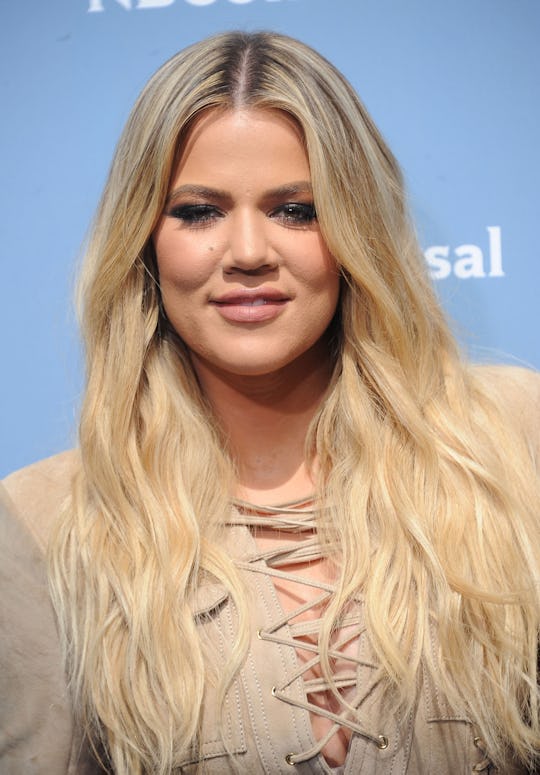 Brad Barket/Getty Images Entertainment/Getty Images
Fans Think Khloé Kardashian Has Forgiven Tristan Thompson Thanks To This Tweet
Following the news in April that Tristan Thompson allegedly cheated on Khloé Kardashian while she was pregnant, many fans wondered whether the couple would stay together. (Thompson did not immediately respond to Romper's request for comment.) And once little True Thompson arrived on April 12, the speculation reached a fever pitch. To fans' dismay, however, Kardashian has yet to directly address the cheating allegations and her relationship status. Still, even though there is no official word on the couple's future, some fans think Khloé Kardashian has forgiven Tristan Thompson due to this cryptic tweet. Don't you just love vague tweets?
In the weeks following the Thompson cheating allegations, Kardashian went radio silent on social media. The silence was unusual for Kardashian, to put it mildly, because the reality star loves interacting with her fans on Twitter and Instagram. Of course, no one can blame Kardashian for lying low post-scandal — she was dealing with a lot, after all. But now that a month has passed since the allegations first surfaced, it seems like Kardashian is ready to face the world again. And, if you're prone to conspiracy theories, it looks like Kardashian is finally prepared to address her relationship status with Thompson. "You will never ever regret being kind to someone," Kardashian curiously tweeted on Wednesday.
Needless to say, a lot of people think the vague tweet is about Thompson. The prevailing theory is that Kardashian is showing kindness to Thompson by forgiving him for his alleged cheating.
Shortly after Kardashian shared the message, a lot of fans chimed in with *thoughts* about her perspective. "Unless they're ungrateful for it," one person wrote back to Kardashian, according to Twitter.
To which Kardashian replied, according to Twitter: "Never give to get. Always try to give without expectations. Whether that be something tangible or emotional."
Once again, it's not exactly clear who — or what — Kardashian is referring to with this tweet. Still, many people think these cryptic messages are about Thompson.
"The best lesson you can teach your daughter is respect and clearly Tristan disrespected both of you," one person responded. "You deserve so much more Khloé and so does True!"
"Does that apply to ur boyfriend faithfulness? @RealTristan13," someone asked, according to Twitter.
"Be nice to the girl @RealTristan13 cheated on you with then," one commenter added.
Although it's clear that a lot of people aren't on board with the idea of Kardashian and Thompson getting back together, it doesn't really matter what fans think. At the end of the day, if Kardashian has forgiven Thompson, then that's that. Kardashian can make her own decisions for herself and her family.
That being said, these tweets might have nothing to do with Thompson. Kardashian has a long history of vague tweeting, after all.
On the other hand, sources suggest — and a recent sighting of Thompson and Kardashian at a restaurant — that the two are back together. "No one in her world is supporting Tristan and she's still in love with him," a supposed insider told Us Weekly about Kardashian's dilemma.
In short, this situation is incredibly confusing. And, to put it plainly, Kardashian's vague tweeting makes the mystery even more perplexing. One has to wonder what Kardashian hopes to achieve with these tweets that could be interpreted as hints about her relationship status. Either Kardashian wants to send fans a low-key message about what's going on, or she's just tweeting for the heck of it. I guess fans will just have to wait and see what happens next.