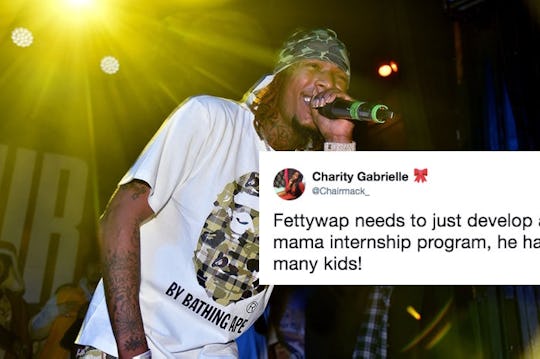 Theo Wargo/Getty Images Entertainment/Getty Images
People Are Dragging Fetty Wap For Having 7 Kids At 26 Years Old & He's Not Here For It
About two months ago, rapper Fetty Wap welcomed his sixth child, who was born three months prematurely but is now doing well. And earlier this week, the 26-year-old musician welcomed his seventh child, who was mothered by another woman. And even though the birth of a new child should be a time to congratulate the baby's parents, instead, some people have taken to the internet to shame Fetty Wap for having seven kids with multiple women — and he's not here for the judgment and criticism.
In the comments section of an Instagram post of Fetty Wap and some of children back in January, a commenter allegedly critiqued him for having as many kids as he does, as reported by Page Six. "Actually my son is on the way so it'll be 7 at 27 with 22 million … so yeah I think my odds are better than you boyfriends and all my kids moms have moved on and living their life," he reportedly wrote on Instagram, as per Page Six, adding:
They allow me to be a dad so f–k everybody's opinion straight like that…I'm fortunate enough to have been smart enough to invest my money so my kids will have money when I'm gone.
Editor's Note: This post has since been deleted.
Additionally, many took to Twitter this week to criticize the new dad.
Lezhae Zeona, who owns a cosmetic line called Luscious Lips By Lezhae, gave birth to her and Fetty Wap's second child together sometime in the last week, as reported by People. Zeona posted an Instagram Live video of herself and her new baby from what looks like a hospital room several days ago. Another Instagram account saved and uploaded the short clip, noting in the caption that the boy was a baby, and that Fetty Wap was the father. Zeona and Fetty Wap also share a nearly-3-year-old daughter, Zaviera Maxwell, as per People.
Fetty Wap has not posted anything explicitly confirming the birth of he and Zeona's second child. However, Zeona posted two photos on her Instagram story (one on Monday, and one on Tuesday) of her new baby. One features the baby's hand holding what appears to be Zeona's finger (how very Kylie Jenner and Stormi Webster of her), and it reads "We're going home today. I cannot wait to have both of my children together."
The other photo shows Zeona and Fetty Wap's daughter holding the baby (with his face hidden by an emoji), reading "their first time meeting."
On Tuesday, Zeona also shared a video of someone dancing joyfully, that she says encapsulates her "entire shmoodddd," aka her mood.
Editor's Note: This video has since been deleted.
In the caption of the video, Zeona wrote:
I'm too f*ckin happy nobody or nothing can steal my joy ! I know this year is gonna be amazing to me and my children! I got sooooo many great things in the works that I chose not to speak about because I'd rather just do it ☺️ 2 gorgeous and healthy children 😍
She also used the caption to acknowledge those who have criticized her:
I don't think I've ever been this happy in life before soooo many unnecessary people and things that's were extremely toxic for/to me are completely irrelevant to me now. I have to live for me and do what's best for them by any means necessary and I'm gonna do it.
Her defense is not uncalled for, considering the hate that people have directed towards Fetty Wap for having as many children as he does. It's unclear if she and Fetty Wap are currently in a relationship, but according to People, Alexis Skyy and Fetty Wap are exes.
Alexis Skyy gave birth to her and Fetty Wap's daughter Alaiya Grace in January. She was born three months prematurely, and she is reportedly still living at the hospital. Skyy, who is the CEO of skincare company Koko Mi' Mommy according to her Twitter bio, has shared several photos of Alaiya since her birth, and she's shared that she hopes to take her home from the hospital soon.
Judging a parent for the amount of children they have is never called for, so hopefully Fetty Wap's fans stick to messages of congratulations from now on.
Check out Romper's new video series, Bearing The Motherload, where disagreeing parents from different sides of an issue sit down with a mediator and talk about how to support (and not judge) each other's parenting perspectives. New episodes air Mondays on Facebook.