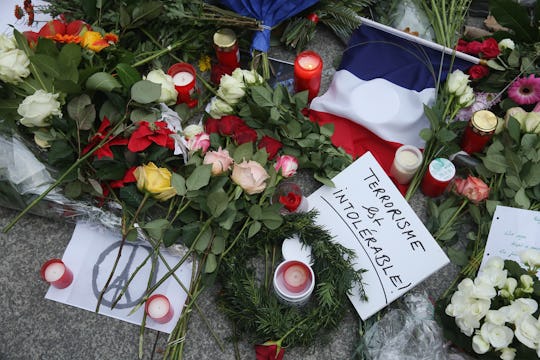 Sean Gallup/Getty Images
First Victim Of Paris Terror Attacks Identified As Young French Lawyer
On Friday, over 120 people were killed (with over 80 killed in attack on the Bataclan concert hall) in three explosions and six shootings that occurred in six different locations in Paris, France. Saturday morning, officials released the first name of one of the Paris victims, Valentin Ribet. Not much is known yet about Ribet, however the Washington Post reports that he was a "talented lawyer, extremely well liked, and a wonderful personality in the office." At the time of his death, Valentin Ribet was just 26 years old.
In addition to Ribet, officials have said that one American woman named Nohemi Gonzalez was killed in the attacks, while U.K. national Nick Alexander was confirmed killed selling merchandise at the Bataclan. U.K. Prime Minister David Cameron said he's expecting British casualties. At least two Belgians were also killed, according to the Belgian Foreign Ministry.
In times like these, people often encourage each other to spread the names of the victims before spreading the names of the assailants. It's important to remember the innocent lives lost in the face of hatred. Their names are a reminder that we can — and should — do better to protect ourselves and each other. Ribet's name is among the first to be released by officials. He was a young French lawyer who specialized in "white-collar crime" and his firm, Hogan Lovells, gave a statement on his passing to the Washington Post:
This is an awful tragedy and hard for any of us to truly comprehend. We are shocked by both our loss and the wider events in the city. Our thoughts at this time are with Valentin and his family as well as with his colleagues in the office and across the firm.
No official word on where Ribet was at the time of the hostage situation and the subsequent shootings at the Bataclan. Romper reached out to Hogan Lovells for comment but did not immediately hear back.
The Washington Post notes that Ribet had graduated from the London School of Economics in 2014 (information obtained from his LinkedIn profile), where he earned a masters degree in international business law, and also held several degrees from the University Paris I Panthéon Sorbonne. A statement that the London School of Economics shared on Twitter read:
Image: Sean Gallup/Getty Images