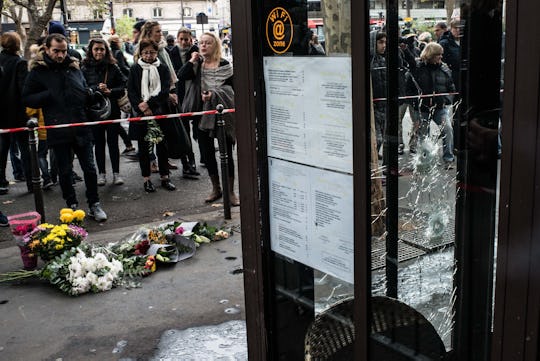 Who Was The American Killed In The Paris Terror Attacks? Details About Victims Are Starting To Be Released
UPDATE: Following the death of Nohemi Gonzalez in the Paris terror attacks, a representative from California State University, Long Beach, told reporters in a press conference that, "I can say without a doubt that the university is in mourning." The President of the University, Jane Close Conoley, said Gonzalez was at a restaurant with other study abroad students when she was wounded. The other students are safe, according to Conoley. A vigil in honor of Conoley will take place on campus Sunday.
EARLIER: Less than 24 hours after seven assailants stormed six locations in Paris and killed over 120 people, details surrounding the victims are starting to be released. And according to CNN, one of the Paris attack victims was an American woman. A 23-year-old woman, the victim's name was Nohemi Gonzalez, and she was visiting Paris while studying abroad her junior year.
According to California State University, Long Beach, where Gonzalez was a student, the 23-year-old from El Monte, Calif., was attending Strate College of Design. Said Cal State President Jane Close Conoley in a statement:
I'm deeply saddened by the news of the passing of Long Beach State University student Nohemi Gonzalez. Our thoughts and prayers are with her family and friends during this sad time. Our university stands with our nearly eighty foreign exchange students from France as they struggle with this tragedy. We will extend all support necessary to comfort them. We will also extend support to all students, faculty and staff who are in need.
Nohemi Gonzalez is the second victim named in the attacks. Earlier on Saturday, officials identified French national Valentin Ribet, a 26-year-old lawyer, as one of the victims, as well as U.K. national Nick Alexander, who was killed selling merchandise at the Bataclan. David Cameron told reporters at a press conference on Saturday that he expects British casualties, and at least two Belgian nationals are dead, according to the Belgian Foreign Ministry.
ISIS has claimed responsibility for the attack, which began Friday. Gunmen and suicide bombers attacked six different locations, including concert hall The Bataclan, where at least 80 have been killed. On Saturday, French Prosecutor François Molins told reporters that over 350 people are wounded. Nearly 100 of those 350 have been wounded critically.
Throughout the world, mourners are paying tribute to those who were killed in the attacks in various ways.
Image: David Ramos/Getty