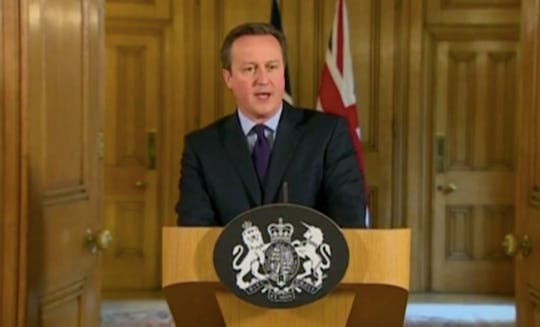 BBC
British Prime Minister David Cameron's Remarks On The Paris Attacks Warn Of Possible British Casualties
UPDATE: One day after ISIS has claimed responsibility for the Paris terror attacks, France reportedly launched airstrikes against the militant group in Syria, dropping 20 bombs in the area. Some targets were destroyed, according to reports, but not much else is known about the airstrikes.
One of the suspected suicide bombers has been identified as Ismael Omar Mostefai. Authorities also confirmed that seven of the assailants have died, and the attacks were carried out by three coordinated groups. Paris police, however, are currently hunting for an eighth attacker who may still be at large, who has been identified as 26-year-old Abdeslam Salah.
Officials have confirmed that a police raid in Belgium led to the arrests of seven individuals who may have ties to the attacks.
On Saturday, French president François Hollande has also put the blame on ISIS, calling their actions an "act of war." Said ISIS in a statement released less than 24 hours after the attacks:
France needs to know it still remains at the top of the target list of the Islamic State.
The death toll currently sits at about 130, with over 350 wounded. (One of those killed was an American woman studying abroad in France.) According to French Prosecutor François Molins, nearly 100 of those wounded are critically injured.
EARLIER: In the wake of the terrorist violence that struck the French capital Friday, on Saturday British Prime Minister David Cameron responded to the Paris attacks warning that British citizens may be among the victims, expressing condolences to the French people, and describing the measures being taken to protect the UK from any similar threats. In a statement made from Downing Street, he said, "We must be prepared for a number of British casualties," he told reporters, according to the BBC. Cameron said the UK terror threat level is staying at "severe" but that the level would be reviewed in light of the attack. Police presence at UK ports will increase. He called ISIS, who claimed responsibility for the attacks, an "evolving" threat.
Cameron also said that the UK's Foreign Office is "urgently investigating" whether any British citizens are among the Paris victims. He described himself as "shocked" by the events in Paris, which he describe as "the worst act of violence in France since the second World War." At least 120 people were killed Friday, according to reports. Cameron addressed the French people in his statement,
"Your values are our values. Your pain is our pain. Your fight is our fight. And together, we will defeat these terrorists."
The prime minister reiterated part of his address on Twitter:
The French portion of his message translates: "We are in solidarity with you. We are all together."
On Saturday British monarch Queen Elizabeth II also tweeted her message to the French people:
Watch Cameron's statement below: