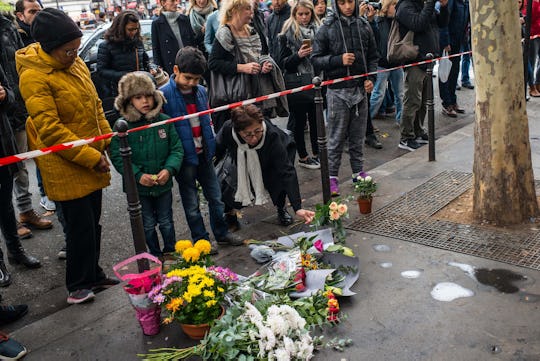 Paris Terrorist Attack Death Toll Updated by French Prosector, With Expectations That It Will Rise Still
UPDATE: One day after ISIS has claimed responsibility for the Paris terror attacks, France reportedly launched airstrikes against the militant group in Syria, dropping 20 bombs in the area. Some targets were destroyed, according to reports, but not much else is known about the airstrikes.
One of the suspected suicide bombers has been identified as Ismael Omar Mostefai. Authorities also confirmed that seven of the assailants have died, and the attacks were carried out by three coordinated groups. Paris police, however, are currently hunting for an eighth attacker who may still be at large, who has been identified as 26-year-old Abdeslam Salah.
Officials have confirmed that a police raid in Belgium led to the arrests of seven individuals who may have ties to the attacks.
On Saturday, French president François Hollande has also put the blame on ISIS, calling their actions an "act of war." Said ISIS in a statement released less than 24 hours after the attacks:
France needs to know it still remains at the top of the target list of the Islamic State.
The death toll currently sits at about 130, with over 350 wounded. (One of those killed was an American woman studying abroad in France.) According to French Prosecutor François Molins, nearly 100 of those wounded are critically injured.
EARLIER: On Saturday, less than 24 hours after seven assailants attacked Paris in six different locations, French Prosecutor François Molins held a press conference in which he confirmed a new death toll in the Paris terrorist attacks that ISIS has claimed responsibility for. As of Saturday afternoon, 129 were killed in the attacks, with over 350 wounded. Of those 350, nearly 100 are in critical condition. That means the death toll is only expected to rise as the hours tick on.
Though little is known at this point about the identity of those who were killed in the attacks, The Washington Post is naming one victim, Valentin Ribet, a 26-year-old who was a "talented lawyer, extremely well liked, and a wonderful personality in the office." Also, CNN reports that an American woman has been killed in the attacks, while U.K. Prime Minister, David Cameron, told reporters Saturday that there could be British casualties as well. At least two Belgians have been killed as well, according to the Belgian Foreign Ministry.
That's more detail than we know about those who perpetrated the attacks on Friday. Though one of the attackers has been identified as a 30-year-old French national from the suburb of Courcouronnes whose radical ties were known to the police, and little else is known about the others. (Molins told reporters on Saturday that the individual became a radical in 2010, and had criminal ties, though no specific link to terrorism.) That said, the Belgium Justice Minister confirmed that a police raid in Brussels led to several arrests of individuals who might be tied to the attacks, so more information might be flooding in soon.
On Friday, six shootings and three explosions led to the deaths of over 120 people, with at least 80 being killed in one location, the Bataclan, where the American band Eagle of Death Metal had been playing. French President François Hollande called the attack an "act of war," and world leaders, including President Barack Obama, have pledged to support France in defeating those responsible.
Image: David Ramos/Getty