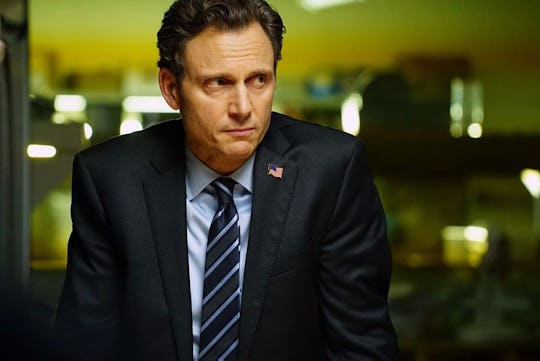 ABC/Richard Cartwright
Fitz & Mellie Know Olivia Killed Andrew On 'Scandal,' But Will The News Spread?
Throughout Scandal's run, Olivia Pope has done some questionable things for her clients. She's participated in lies and deceit – rigging Fitz's first election for one – and in some cases sent Gladiators like Huck to do other dirty work for her. Some believe, however, she passed the point of no return when she murdered former Vice President Andrew Nichols a few episodes ago. Up until now, only several people in Olivia's inner circle knew about this. On Thursday's episode, "Buckle Up," this knowledge spreads – and Fitz and Mellie learn that Olivia killed Andrew.
The episode features a standoff of sorts between Susan and Mellie's campaign teams. Susan jets off to Florida to schmooze at a dinner, while Air Force One is stuck on the tarmac. A law states that no other plane can move until Air Force One does – and Mellie's plane has yet to leave for Florida to attend the same dinner. Mellie meets Fitz to try to convince him to move the plane. He budges eventually, but not without revealing to Mellie that Andrew died because of Olivia. Mellie wonders out loud if she sent one of the Gladiators to kill him, but Fitz confirms that it was Olivia. He adds in the detail that her only weapon was her hands (and, well, a chair).
Mellie was shocked by this realization, but then put the pieces together. She said she has been "a different person" recently, like she was "there but not there" – and this was the reason why. Fitz agreed with her, and felt that Olivia has not been herself.
Why did Olivia resort to murdering Andrew in this seemingly horrible way? Some fans justified it due to the backstory: Andrew was responsible for Olivia's kidnapping in season four. She was left traumatized and haunted by the experience; it took her months to even seem like her "normal" self. On Thursday's episode, Olivia said not only did she not have remorse, but his death is "sweetened" by the fact that she killed him. This seemed pretty unlikely from the outset, seeing as in the last episode she was consumed with guilt – and fear that she's turning into her father.
So what happens now? Mellie, who also hated Andrew, said "good for her." There's no way she will not give her up to run her campaign. It's also doubtful Fitz or Mellie will take legal action, but it might change how they see Olivia. With so few episodes left of the season, we'll have to keep watching to see how this unfolds.