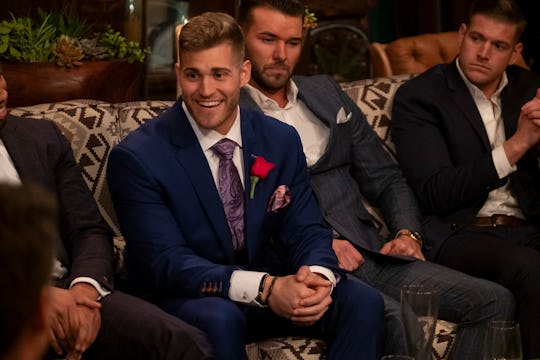 John Fleenor/ABC
'Bachelor' Nation Is Already Over Luke P. On 'The Bachelorette'
Hannah might have accepted Luke P.'s proclamation of love so early in her Bachelorette season, but that doesn't mean that fans and members of Bachelor Nation are into it. In fact, everyone was kind of stumped when Luke P. told Hannah that he's falling in love with her on last night's episode and then proceeded to take up a ton of her time at the cocktail party. And now, the former Bachelor contestants' reactions to Luke P. on The Bachelorette prove that he isn't really fooling anyone. Maybe he really does feel like he is falling in love with Hannah and that his religious awakening is legitimate. But it's hard for some viewers and now, some former contestants themselves, to really buy his whole persona.
Unsurprisingly, Luke P.'s fellow contestants on Hannah's season of The Bachelorette kind of hated his whole schtick. They worried that Luke P.'s declaration of love might scare Hannah away from all of the guys or potentially outshine some of them, who are still getting to know her at this point. Honestly, it probably is far too early to be dropping the L-word, even if Luke P. is sure that he feels it. Bachelorette or not, no one needs to be talking about love before they have even had a one-on-one date.
One former Bachelorette contestant and Bachelor star, Nick Viall, took to Twitter during last night's episode to read Luke P. every chance he got. And if Nick, who has been on The Bachelorette twice and Bachelor in Paradise and Bachelor once, sees red flags, you know something is up.
According to Nick on Twitter, Luke P. just seems all around disingenuous. Nick sees him as someone who uses his faith in God as an excuse to potentially treat other people poorly or to defend his own selfish actions. We haven't seen that yet, but at this point, I wouldn't put it past Luke P. to pull that card. Maybe the majority of fans are wrong and he will redeem himself. Right now, however, Luke P. doesn't have too many fans in Bachelor Nation.
Nick also doesn't seem to believe that Luke P. found God and turned his life around to stop casually dating and having sex and start dating for marriage. I don't know if it's anyone's place to accuse Luke P. of exaggerating on his newly found religious dedication, but it does say something about Luke P. that he seems to lean on that hard so far this season.
Then again, Rachel Lindsay from The Bachelor and The Bachelorette has also been quick to call Luke P. out for potentially using his religion to stand out from the other men. Rachel tweeted that when Luke P. was shown with a Bible, it seemed to be brand new rather than a well-thumbed through copy you would expect.
And after Luke P. told Hannah that he is falling in love with her, Rachel wasn't having that either. Maybe it was a dig at Colton from The Bachelor, but Rachel called out Luke P. for already pulling out all of the attention-seeking stops to secure a place in the final two.
It's safe to say that Rachel specifically has a ton of reservations about Luke P. and at this point, you can't really blame her. His actions have been enough to throw up a few red flags and although Hannah hasn't seen any of it that way, former Bachelor contestants who are on the outside looking in seem to be looking out for her.
Derek Peth from The Bachelorette and Bachelor in Paradise also tweeted about Luke P.'s actions on The Bachelorette. After last night's episode, Derek pointed out that Luke P. seems to be just around the corner every time Hannah is vulnerable. Luke P. might be doing it to come across as a nice guy, and according to Derek, it's not cool.
Connor Obrochta from Becca's season is another former contestant who doesn't trust Luke P. just yet. It has only been a couple of episodes, so if we give Luke P. the benefit of the doubt, it is possible that he will turn around some of these opinions about him. Right now, however, his fellow Bachelor Nation members aren't wild about him.
As soon as Luke P. told Hannah that he's falling in love with her during the talent show group date, Diggy Moreland was quick to tweet his thoughts on the matter. And, like his fellow former contestants, he wasn't buying any of it. He tweeted that Luke P.'s talent is lying in reference to telling Hannah how he felt.
I would like to believe that Luke P. has the potential to turn these first few impressions of himself around and come out as a lovable frontrunner this season. In a way, though, it feels like the damage has been done. The other guys are weary of him and former Bachelor contestants don't seem to trust him at the moment. If Luke P. can prove that he really is genuine, though, maybe he can turn around the general opinion of him before it's too late.