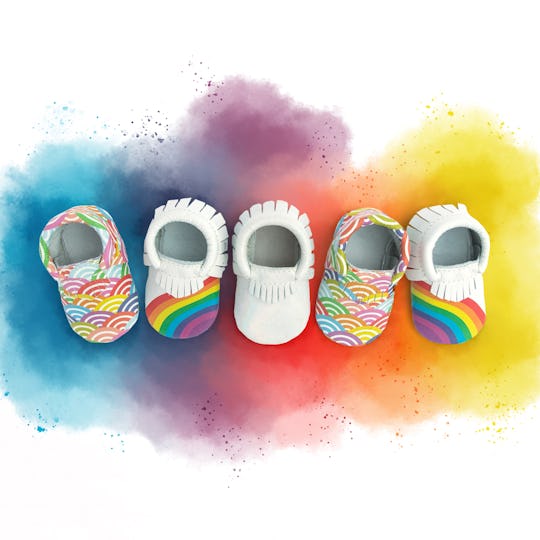 Freshly Picked
Celebrate Your Rainbow Baby Perfectly With These Adorable & Joyful Moccasins
In case you haven't noticed, the unicorn-sparkly-all things rainbow trend is having a moment in the world. It's basically like your Lisa Frank Trapper-Keeper dreams from middle school came to life, and now everyone's looking for the perfect pair of rainbow overalls for their toddler and rainbow hair accessories for their big kid. If you add in that you have a rainbow baby of your own — a baby born after losing a child — then you're really feeling all things bright and colorful. I don't blame you a bit, which is why the Freshly Picked rainbow collection for your little ones is so perfect. Whether your baby is a rainbow baby or not, this collection is everything childhood should be — bright, happy, and fun.
I mean, it's kind of hard not to go wrong with any pair of cute baby moccasins, but if you're looking for the perfect version for curating your Instagram feed, you'll need this rainbow collection from Freshly Picked. In addition to all the bright colors the company is known for with their well-made leather moccasins, the rainbow collection includes a white shoe with the perfect rainbow arcing over the toe, a shoe covered in multiple geometric rainbows (my personal favorite), and a hologram moccasin that turns from sparkly, shimmery white to a rainbow when worn in the light.
Bonus: you don't have to pick these up in just newborn or baby sizes either. The collection goes all the way up to size 7, which is, according to the Freshly Picked size guide, the right size for kids who are 3 to 3.5 years old. The newborn pairs are $45 and all other pairs are $60.
I'm not really sure what it is about rainbows that makes everyone, including parents, go so ga-ga over, but there's just something about the natural loveliness. Whether it's the colors or everything a rainbow symbolizes, parents have really capitalized on the trend in the last year or so. From rainbow sprinklers for your kids to run through to perfect rainbow sleepers for baby, you can basically outfit your kid's entire childhood in all things rainbow.
But for parents who have an actual rainbow baby, that trend has a much deeper meaning. According to The Bump, the term rainbow baby was created for parents who have a baby after experiencing a loss. Whether your loss was a stillbirth, a miscarriage, or you lost your child when they were older, it's obviously a storm you have to push through. When you have another baby, that baby is considered your rainbow baby — the rainbow after the storm. It definitely doesn't mean you forget your first love or the baby you lost before, but having a sweet name for your new little one can help you heal and feel your lost baby even more.
Some parents choose to celebrate their rainbow baby with actual rainbows. From rainbow-themed baby showers to a rainbow-themed nursery, there are tons of ways to incorporate the sweet brightness of a rainbow into your baby's life. And honestly, these Freshly Picked moccasins may be my favorite way to do it. No matter which pair you choose, whether you need a newborn pair for your rainbow baby's announcement or a larger pair for your older rainbow baby, these moccs are there. They'll last for a long time thanks to their genuine leather and handmade details, so you know you're getting something worthwhile. And besides, how sweet are those perfect rainbows going to look when your kiddo outgrows them and they become a permanent fixture on their shelf? I'm telling you, these are cute enough to be nursery decor.