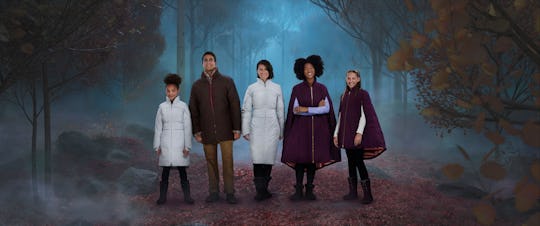 Columbia Sportswear
Kristen Bell Signed A Bunch Of Columbia's 'Frozen 2' Coats & They're So Cute
Calling all Anna and Elsa fans: To celebrate Disney's highly-anticipated sequel, Columbia Sportswear's Frozen 2 limited-edition outerwear collection is inspired by the iconic characters in the film.
With nine styles in the collection, there's a jacket option for every Frozen fan in your household. Frozen 2 is a brave outdoor adventure, and the collection incorporates the role that natural elements play in the new film. As everyone's favorite sisters explore the source of their inner strength on an epic journey into the wilderness, you could easily imagine Elsa, Anna and Kristoff wearing any of the jackets you'll find below. Your own family's winter activities might not be quite as epic or high-stakes as the snowy quest in the movie, but you'll still need to keep everybody warm. These coats and jackets (and even capes) will do just that. And for once, you might not have to nag your kid to bundle up this winter.
Kristen Bell has even signed 20 of Columbia's new Anna Down Capes, which are available in four of the retailer's stores across the country (while supplies last): Disney Springs, Portland, Seattle and New York. All sales from Kristen's signed capes will go to No Kid Hungry, a national campaign to end childhood hunger in America.